Why and What is the 'Beating the Retreat' Ceremony?
About Beating the Retreat: Republic Day celebrations in the country begin on 23 January. The Indian flag is hoisted on the Red Fort on 26 January. The week-long Republic Day celebrations come to an end on this day.
On January 29, the 'Beating the Retreat' ceremony takes place and after that, the Republic Day celebrations come to an end. Many dignitaries including the President, the Prime Minister, and the Defense Minister participate in this ceremony. This 'Beating the Retreat' ceremony held every year at Delhi's Vijay Chowk is very special in many ways.
'Beating the Retreat' signifies the return of the army to the barracks. Beating retreats have been a tradition around the world. During the battle, the armies would lay down their arms and go back to their camp at sunset, then there would be a musical ceremony, this is called the beating retreat.
The Beating Retreat in India originated in the 1950s when Major Roberts of the Indian Army indigenously developed the unique ceremony of a large-scale band performance. The Indian President attends the ceremony as the Chief Guest.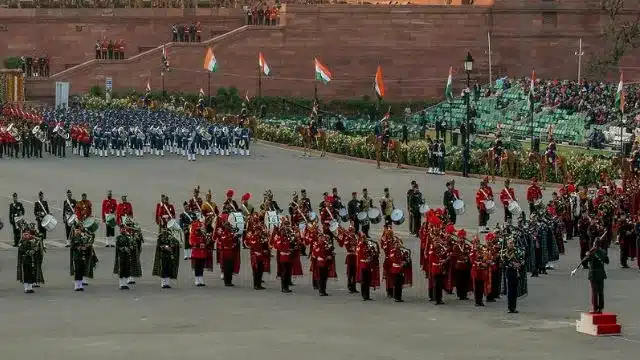 National Salute is given to the President as soon as he arrives at Vijay Chowk. During this, the national anthem Jana Gana Mana is sung. The Tiranga is hoisted. The Army bands, Navy, and Air Force march together to the traditional Indian tune. The bugle of the Republic Day retreat is followed by the band playing.
The ceremony at the Vijay Chowk on January 29 every year marks the culmination of the four-day-long Republic Day celebrations. 
During this, the bandmaster approaches the Indian President and seeks permission to take the band back. This means that the 26 January celebrations are over and the bands march back to play the popular tune 'Saare Jahan Se Accha'.
For the Latest Educational News (CBSE, ICSE, and State Board News) and live news updates, like us on Facebook or follow us on Twitter and Join our Premium Telegram Channel. Read more on Latest Exams & Results News on Shikshapress.com.