Dr APJ Abdul Kalam's Best Quotes for Students
APJ Abdul Kalam quotes for students | 10 Best APJ Abdul Kalam Quotes for Students' Motivation 
APJ Abdul Kalam, fondly known as the "Missile Man of India," was born on this day in 1931 to a Muslim family in the holy town of Rameswaram in Tamil Nadu.
Dr. Kalam served as the 11th President of India, after being elected on July 18, 2002. During his five-year tenure, he was admired by many and was commonly referred to as the "People's President." He passed away on July 27, 2015, leaving behind a legacy of excellence and inspiration.
Apart from being an eminent scientist, Dr Abdul Kalam was a beloved teacher who had a great love for his students. He always encouraged them to dream big and make their thoughts a reality through action. He firmly believed that teachers are the backbone of society, as they play a crucial role in shaping the minds of future generations. His inspiring words and deeds continue to motivate students and educators alike to this day.
Why Dr. APJ Abdul Kalam Quotes are Important for Students?
APJ Abdul Kalam Quotes: Dr APJ Abdul Kalam Motivational Quotes About Education, Students, Success and Life: Get inspired and motivated with these amazing educational and inspirational quotes by the great APJ Abdul Kalam.
Sir APJ Abul Kalam was one of the most respected teachers and social leaders in India. Discover powerful and inspiring words of wisdom that can help you with your studies, career, and personal growth.
From learning to teaching, these quotes cover it all. Find inspirational quotes in English and explore the famous quotes of Dr APJ Abdul Kalam for students, educators and teachers. Let Abdul Kalam's wisdom inspire you to achieve greatness and make a positive impact on the world.
APJ Abdul Kalam Quotes for Kids and Students – Thoughts of APJ Abdul Kalam with explanation
Here are 10 inspirational quotes by APJ Abdul Kalam that can motivate and inspire students:
"Dream, dream, dream. Dreams transform into thoughts and thoughts result in action."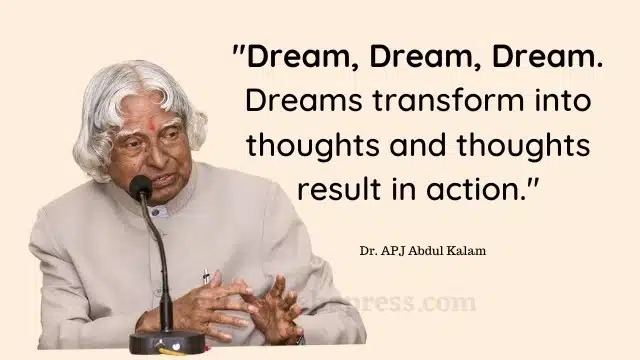 This Dream quote is highlighting the importance of dreaming and how it can lead to action. According to DR. Apj Abdul Kalam, dreams have the power to shape our thoughts and our thoughts, in turn, can inspire us to take action towards making those dreams a reality.
Kalam Sir believes that dreaming is the first step towards achieving your goals. We must never stop dreaming or underestimate the power of our dreams. we can develop the motivation and determination to work by constantly dreaming and thinking about our goals. In short, this quote encourages us to dream big and turn those dreams into action.
"You have to dream before your dreams can come true."
APJ Abdul Kalam's this Quotes means that in order for our dreams to come true, we must first have the courage to dream and imagine them.
Simply having a desire or goal is not enough. we must be willing to visualize our dreams and also take steps towards achieving our targets and the success of our mission.
Without a clear and focused vision or a dream, it is difficult to create a roadmap for success. So that's why, Abdul Kalam encourages students to dream big and work hard to make dreams a reality.
"Learning gives creativity, creativity leads to thinking, thinking provides knowledge, and knowledge makes you great."
According to APJ Abdul Kalam, learning new things enables us to be imaginative and come up with novel ideas. We learn more and grow wiser when we reflect on novel concepts. With this Quote, we may succeed in life and do amazing things. Learning is therefore highly essential and can aid in our improvement and goal-achieving.
"Don't take rest after your first victory because if you fail in the second, more lips are waiting to say that your first victory was just luck." – Dr APJ Abdul Kalam Quotes on Success
In this quote, Dr APJ Abdul Kalam said that if you stop working hard after your first success and fail in your next attempt, people may say that your first victory was just luck. it means that success requires consistent effort and hard work, not just luck or one-time effort. So, students should keep working hard even after achieving their first success to maintain their position and avoid criticism.
"Teaching is a very noble profession that shapes the character, caliber, and future of an individual." – Dr APJ Abdul Kalam Quotes on Education 
According to Abdul Kalam ji, teaching is a highly essential profession because it helps students develop into better people, and better people contribute to better societies. Teachers prepare students for their future. Teachers also help students to develop good qualities like honesty, kindness and responsibility; teachers also teach students important skills and knowledge that come in handy throughout their lives.
"All of us do not have equal talent. But, all of us have an equal opportunity to develop our talents."
"We should not give up and we should not allow the problem to defeat us." – Dr APJ Abdul Kalam Quotes on Success 
In this quote, Abdul Kalam says that we should never give up under any problem or any circumstances. There should be so much self-confidence in a person that he should neither lose in any situation nor let the situation dominate him.
"Thinking should become your capital asset, no matter whatever ups and downs you come across in your life." – Dr APJ Abdul Kalam Quotes on Life 
in this quote, APJ Abdul Kalam said that the capacity to think and solve problems is very important for students, especially when they face difficult circumstances in their lives. Students should value their thinking potential as it will help them to overcome challenges and achieve success in future.
"If you want to shine like a sun, first burn like a sun." – Dr APJ Abdul Kalam Quotes for Students 
In this Quote, Abdul Kalam says that if you wish to achieve something in your life, then you have to work hard and make continuous efforts. There is a local idiom "If you wish to shine like the sun, then you have to heat up and burn like it." Kalam sir, motivating students that they should never be afraid of hard work as it will definitely pay off in the end.
"Failure will never overtake me if my determination to succeed is strong enough." – Dr APJ Abdul Kalam Quotes on Positive Thinking 
According to this remark, failure cannot dissuade someone who is committed to achieve. If you put in consistent effort and don't give up, you will ultimately succeed in your objectives.
20 Thoughts and Quotes By Dr APJ Abdul Kalam
Discover motivational and inspiring education quotes by APJ Abdul Kalam for students. The former President of India and a renowned scientist Dr APJ Abdul Kalam was India's favourite leader.
Read and Explore his ideas on the importance of education, creativity, leadership, and hard work. Get motivated to develop your talents and strive for excellence with these powerful quotes.
10 Best Dr APJ Abdul Kalam Inspirational and Motivational Quotes for Students
1. All of us do not have equal talent. But, all of us have an equal opportunity to develop our talents.
2. Man needs difficulties in life because they are necessary to enjoy success. – APJ Abdul Kalam
3. Excellence happens not by accident. It is a process.
4. You cannot change your future, but you can change your habits, and surely your habits will change your future.
5. Thinking is the capital, enterprise is the way, and hard work is the solution.
6. Educationists should build the capacities of the spirit of inquiry, creativity, entrepreneurial and moral leadership among students and become their role model.
7. We are all born with a divine fire in us. Our efforts should be to give wings to this fire and fill the world with the glow of its goodness.
8. A small aim is a crime, have a great aim.
9. Success is when your signature changes to an autograph.
10. To succeed in life and achieve results, you must understand and master three mighty forces— desire, belief, and expectation.
10 Best Dr APJ Abdul Kalam Quotes for Students
Get inspired with the best motivational and success quotes for students by APJ Abdul Kalam. Explore famous education quotes and famous quotes for students by Abdul Kalam that will inspire you to achieve your goals.
Discover the top motivational quotes in Hindi for students by APJ Abdul Kalam that will encourage you to reach your full potential. From the best quotes for students to his most inspiring words, find everything you need to stay motivated and focused on your dreams.
11. It's very important to know that we are all born with different talents, but we are all born with the capability to be great.
12. If you want to leave your footprints on the sands of time, do not drag your feet.
13. Life is a difficult game. You can win it only by retaining your birthright to be a person.
14. The bird is powered by its own life and by its motivation.
15. No matter what the environment is around you, it is always possible to maintain a brand of integrity.
16. To succeed in life, you need two things: ignorance and confidence.
17. Your best teacher is your last mistake.
18. Man needs his difficulties because they are necessary to enjoy success.
19. Don't read success stories; you will only get a message. Read failure stories, you will get some ideas to get success.
20. A dream is not what you see in your sleep; it is something that does not let you sleep.
I hope you would like the above quotes by Dr Abdul Kalam.
Read These Posts Too
CBSE Sample Papers | CBSE Circulars |  Quizzes | Study Material
Join our Premium Telegram and Whatsapp Channel for More News and Updates