Dr Apj Abdul Kalam Interesting Facts You Did Not Know | Why Dr. Abdul Kalam is Great?
Welcome to Shikshapress. in this post You will read some Interesting Facts about Dr APJ Abdul Kalam Sir. He was such a Gem of a Person. There are so many facts about apj abdul kalam in english on Internet but we collected 10 facts about APJ Abdul Kalam Ji for You.
Dr. A. P.J. Abdul Kalam was an eminent Indian scientist and the 11th President of India. He worked in some of the most important organizations of the country (DRDO and ISRO). He also played an important role in the Pokhran II nuclear test in the year 1998. Dr Kalam was also associated with India's space program and missile development programme. That is why he is also called 'Missile Man'.
Dr. Kalam was elected President of India in 2002 and after serving a term of 5 years, he returned to teaching, writing, and public service. He was honored with several prestigious awards including Bharat Ratna, India's highest civilian honour.
What is the full Name of Abdul Kalam?
Avul Pakir Jainulabdeen Abdul Kalam, better known as A. P. J. Abdul Kalam who was the 11th president of India. Kalam was born and brought up in Rameswaram and became a scientist and worked for DRDO and ISRO.
10 facts to know about Dr. APJ Abdul Kalam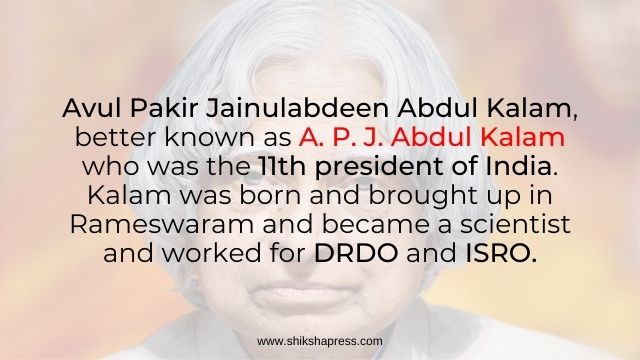 Interesting facts about APJ Abdul Kalam in English
APJ Abdul Kalam Facts #1 – When Dr Kalam was working as a scientist, once a member of his team asked permission to go home early so that he could take his children to an exhibition. But due to busyness, he forgot this thing. Feeling sorry when he reached home late in the evening, it was learned that Dr. Kalam had taken the children to show the exhibition.
APJ Abdul Kalam Facts #2 – In 2013, at a function held in San Diego, California, when some Indian children came to meet Dr. Kalam while eating, he asked a student to eat on his plate. On being inspired, the child picked up a leaf of spinach from their salad, which became the leaf of inspiration for the rest of his life.
APJ Abdul Kalam Facts #3 – When Dr Kalam was in DRDO, there was a suggestion to put pieces of glass on the outer walls of a building to protect it. But he rejected it saying that by doing this, when the birds sit on the wall, they can get hurt.
APJ Abdul Kalam Facts #4 – Once when Dr. Kalam was giving a lecture to the children of the school, there was some disturbance in the electricity. Dr. Kalam got up and went straight among the children and surrounded them and asked them to stand. In this way he communicated without a mic with about 400 children.
APJ Abdul Kalam Facts #5 – Once a class 6th student made a sketch of Dr Kalam after reading the book "Wings Of Fire". The family members encouraged him to send it to the President. The boy thought what would happen to it, he would not even get it, but still after insisting a lot, he sent the sketch. A few days later he received a Thank You note signed by Dr. Kalam.
APJ Abdul Kalam Facts #6 – A few days after becoming the President, he went to Kerala Raj Bhavan, Trivandrum to attend an event. He had the right to call any two people on his behalf, and you would be surprised to know who he called – a cobbler and the owner of a small hotel. Actually, Dr. Kalam had lived in Trivandrum for a long time as a scientist, and since then he knew these people, and instead of calling any leader or celebrity, he gave importance to these common people.
APJ Abdul Kalam Facts #7 – Dr Kalam was the chief guest at the convocation ceremony of IIT (BHU), Varanasi. When he reached the stage, he saw that the chair which was for him was bigger than the rest of the chairs. He immediately refused to sit on it and urged the vice-chancellor to sit on it. When the vice-chancellor did not even sit, a chair of the same size was called for and then everyone could sit.
APJ Abdul Kalam Facts #8 – Despite being the President of India, he lives like a common people. Once he asked a question on Yahoo – "What should we do to free our planet from terrorism?" You can see it here. Many people answered this question, including well-known personalities of India.
APJ Abdul Kalam Facts #9 – When someone becomes the President, the government takes care of all his needs, even after he is removed from office. That's why Dr. Kalam donated all his savings to the Providing Urban amenities in Rural Areas (PURA) initiative.
APJ Abdul Kalam Facts #10 – When Dr Kalam was in DRDO, he was invited as a chief guest for a college event. But Dr Kalam reached the venue in the night itself, after going there he said that he wanted to meet the real hard working people, so he came at this time.
Watch this Interesting Video : APJ abdul kalam motivational speech 
For breaking news and live news updates, like us on Facebook or follow us on Twitter and Join our Premium Telegram Channel . Read more on Latest Exams & Results News on Shikshapress.com.