Best Unique Speech Topics for Students in Daily School Morning Assembly
Morning Assembly Speech Topics for Students in English: Whether you are a Principal, Teacher, or Student, you understand that the Daily Morning Assembly is an integral part of your school routine. School assembly is a time when the entire school gathers together to start the day on a positive note, with a dose of motivation and inspiration.
In daily school morning assemblies, there is a significant challenge in finding the best topics to speak about or the Best Morning Assembly Speech Topics for Teachers and Students. So, don't worry; you are in the right place.
However, you can create an anchoring script for any of these given unique and engaging topics for the morning assembly. In this article, we will make a list of the best unique topics for students in daily school morning assembly.
List of 30 Speech Topics for School Morning Assembly
| Morning Assembly Speech  | Speech topics | Speech topics |
| --- | --- | --- |
| Overcoming procrastination | Benefits of team sports | Importance of creativity |
| The power of positive thinking | Strategies for effective studying | Healthy eating habits |
| Cyberbullying and internet safety | Developing public speaking skills | Time management techniques |
| Understanding diversity | Building Resilience in tough times | Importance of financial literacy |
| Effective communication skills | Benefits of volunteering | Mental health and well-being |
| Climate change and sustainability | Managing stress and anxiety | Developing leadership skills |
| Importance of civic engagement | Learning a new language | Building strong relationships |
| The impact of social media | Dealing with peer pressure | Understanding emotions |
| Understanding and preventing bullying | Importance of goal-setting | Effective problem-solving skills |
List of 25 Speech Topics For School Morning Assembly (For Students)
Now next, If you are Looking for speech topics for the school morning assembly? Check out these Questions a variety of speech topics for students. These Speech topics including developing critical thinking skills, cyber security, building resilient relationships, and more. Use these Morning Assembly Speech topics to inspire your next school assembly speech!
| Speech Topics | Speech Topics | Speech Topics |
| --- | --- | --- |
| Character and Success | Patience | Importance of Time Management |
| Try, try, and try again until you succeed | Never Ever Give Up | Hard work and success |
| Let's save the environment | Value of focus | Meditation and health |
| Health is wealth | Power of reading | Ethics and etiquette |
| Early to bed early to rise | Self-study | Self-discipline is the best discipline |
What are the Best Topics for the School Morning Assembly for Teachers?
Speech Topics for Teachers to Speak in Morning Assembly: As a teacher, there is a challenge in choosing the right topics for a school morning assembly. A morning assembly speech is important for setting the tone for the day and inspiring students.
Assembly topics for teachers that promote character-building, personal growth, and community involvement are excellent choices. In this list of topics and related questions, we provide a range of options for teachers to consider for their morning assemblies, encouraging students to reflect on important issues and develop good habits.
List of 30 Speech Topics Ideas For School Morning Assembly (For Teachers)
| Speech Topic  | Topic Ideas  | Topic for Speech |
| --- | --- | --- |
| Importance of education | Benefits of teamwork | Goal-setting for success |
| Anti-bullying and respect | Cultivating positive habits | Developing critical thinking skills |
| Environmental conservation | Mental health awareness | Character-building and leadership |
| Technology and its impact on society | Celebrating diversity and inclusion | Setting and achieving personal goals |
| Time management and prioritization | Mindfulness and self-care | Building resilience and overcoming challenges |
| Importance of reading and literacy | Goal-setting for academic achievement | Career exploration and planning |
| Gratitude and appreciation | Global citizenship and social responsibility | Overcoming obstacles and persevering |
| Developing effective study habits | Responsibility and accountability | Developing a growth mindset |
| Financial literacy and money management | Effective communication skills | Importance of physical fitness |
| Cybersecurity and online safety | Creativity and innovation | Setting and achieving SMART goals |
School Morning Assembly Topics

and

Questions

for Teacher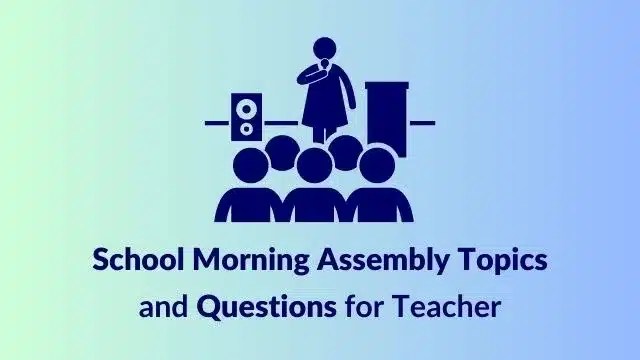 School Assembly Topic Speech ideas on

Gratitude and its Importance in Our Lives 
What are you grateful for today?
How expressing gratitude can improve your mental health
The benefits of having a grateful attitude towards life
The Power of Kindness in Making the World a Better Place
How a simple act of kindness can make a difference
Being kind to others even when it's not easy
The power of empathy and compassion in our relationships
Mental Health Awareness and Self-Care Tips for Students
Coping with stress and anxiety in school
Developing healthy habits for better mental health
Understanding the importance of seeking help when needed
The Importance of Environmental Conservation and Sustainable Living
Reducing our carbon footprint through sustainable practices
The impact of climate change on our planet
Ways to protect our environment and natural resources
Goal Setting and Strategies for Achieving Success
Why setting goals is important for personal growth
Strategies for achieving your goals
Celebrating successes and learning from failures
Embracing Diversity and Promoting Inclusion in Our School Community
Why is diversity in schools important?
Building a more inclusive school community
The value of listening to and learning from different perspectives
Responsibility and Accountability in Our Actions
Taking ownership of our actions and decisions
The importance of being accountable for our mistakes
Developing a sense of responsibility towards others and the environment
Time Management Tips for Students to Balance Academics and Extra-curricular Activities
Balancing academics and extracurricular activities effectively
Strategies for managing your time and staying organized
Prioritizing your goals and making time for self-care
Overcoming Adversity and Resilience in Difficult Times
Resilience in the face of challenges and setbacks
Learning from mistakes and failures
Building a growth mindset and embracing change
Importance of Education and Learning for Personal Growth and Development
Why is education important for personal growth and development?
What are the benefits of continuous learning for personal growth and development?
How can education and learning help individuals achieve their personal and professional goals?
The Role of Technology in Modern Society and Future Innovations
The benefits and drawbacks of technology in our lives
The potential of future innovations and their impact on society
Using technology responsibly and safely
Honesty and Integrity in Building Strong Relationships
The importance of honesty and trust in building relationships
Acting with integrity even when no one is watching
Learning from mistakes and taking responsibility for our actions
Anti-bullying and Promoting Kindness and Respect for All Students
Understanding the impact of bullying on individuals and communities
Promoting kindness and respect towards all students
Standing up against bullying and being an ally to those in need
Good Habits and Practices for Healthy Living and Well-being
Eating well and staying active for better health
Taking care of our mental health through mindfulness and self-care
Developing good habits for a balanced and fulfilling life
The Importance of Empathy and Compassion in our Daily Lives.
Understanding the emotions and experiences of others
Practicing empathy and compassion in our daily lives
Building meaningful relationships through kindness and understanding.
Developing Critical Thinking and Problem-Solving Skills:
How can we apply critical thinking to solve real-world problems?
What are some strategies for brainstorming creative solutions to a problem?
How can we learn to recognize and avoid common logical fallacies in our thinking?
The Importance of Reading and Lifelong Learning:
How does reading improve our cognitive abilities and mental health?
What are some strategies for developing a lifelong love of learning?
How can we integrate reading and learning into our busy schedules?
Cybersecurity and Staying Safe Online:
What are some common cybersecurity threats and how can we protect ourselves from them?
How can we practice safe online behavior and protect our personal information?
What are the consequences of cyberbullying and how can we prevent it?
Building Resilient Relationships with Family and Friends:
How can we build strong and supportive relationships with our family members?
What are some strategies for resolving conflicts and misunderstandings with friends?
How can we cultivate empathy and understanding in our relationships?
Leadership and Taking Initiative in School and Beyond:
What are the qualities of an effective leader and how can we develop them?
How can we take initiative and make a positive impact in our school and community?
How can we learn from failures and setbacks to become better leaders?
Overcoming Peer Pressure and Staying True to Yourself:
How can we resist peer pressure and make our own decisions?
What are some strategies for standing up for our values and beliefs?
How can we build self-confidence and self-esteem to stay true to ourselves?
Understanding and Embracing Different Learning Styles:
What are the different types of learning styles and how do they affect our learning?
How can we identify our own learning style and leverage it for better learning outcomes?
How can teachers and students work together to accommodate different learning styles in the classroom?
Timeless Wisdom from Historical Figures and their Relevance Today:
What lessons can we learn from historical figures and their experiences?
How can we apply the wisdom of historical figures to solve modern-day problems?
What can we learn from the mistakes and successes of historical figures?
Navigating the Challenges of Adolescence and Puberty:
What are some common challenges of adolescence and puberty and how can we navigate them?
How can we cultivate self-care practices to support our mental and physical health during adolescence?
How can we build positive relationships with our peers and mentors during this time of change?
These are just a few best and trending speech topic ideas for the Daily Morning Assembly to get started. There are endless possibilities for topics that can inspire and motivate students during their school morning assemblies. One thing we should remember is that the key is to choose a speech topic that is relevant to their lives and presents actionable tips and strategies for personal growth and development.
---
Best School Assembly Speeches for Teachers: Inspiring Teachers: Best School Assembly Speeches to Motivate and Engage Students – An Ebook for Educators 
Buy a EBook from Amazon: Click here to Check the Price
---
In conclusion, morning assembly speeches are a great way to motivate and inspire all the students. As a teacher, you can use various topics to deliver your speech effectively, whether it's about the importance of time management, the power of reading, or the value of self-discipline. There are plenty of morning assembly speech topics to choose from in the post above.
We hope you would like this Morning School Assembly Speech Topics for Students and Teachers in English post.
Read More Posts Related to Morning Assembly
CBSE Sample Papers | CBSE Circulars |  Quizzes | Study Material
Join our Premium Telegram and Whatsapp Channel for More News and Updates