List of Topics for School Morning Assembly
Unique Topic for Morning Assembly in English:
Leading a
school morning assembly
can be an exciting opportunity to inspire and motivate your fellow students. However, this can be challenging to come up with fresh and interesting topics to cover each day.
What is Morning Assembly and why it's important?
School morning assemblies are very important mental exercises. It's providing an important aura for students to come together as a community and learn valuable lessons about discipline, teamwork, and leadership.
When someone leads the assembly, it's a chance to start the day off on a positive note and gain inspiration from the achievements of your fellow students.
By choosing engaging and Informative Daily Morning Speech Topics for your school assemblies, you can help to create a sense of excitement and enthusiasm among your classmates, and also inspire them to be the best they can be.
So don't be afraid to think outside the box and explore new speech ideas for your school's morning assembly – with the right approach, it can be a truly transformative experience for everyone involved.
Here are some school assembly speech topics ideas that you can consider:
Importance of Respect and Kindness
The Power of Positive Thinking
Benefits of a Healthy Lifestyle
The Impact of Climate Change
The Importance of Time Management
Moral Values for Students
Exciting School Assembly Ideas for Students
Overcoming Challenges and Resilience
The Role of Education in Our Lives
Internet Safety and Cyberbullying Prevention
Building a Strong Community
The Significance of Cultural Diversity
Impact of Moral Values
Team Spirit
Best And Simple Assembly Speech Topics For Students
Mindfulness and Mental Health
Understanding Emotions and Coping Mechanisms
Conflict Resolution Strategies
The Value of Hard Work and Perseverance
Ethics and Moral Values
Assembly Topics for Secondary Schools
Developing Good Habits for Academic Success
Balancing Academic and Extracurricular Activities
Being a Good Role Model
How to Make a Positive Impact in Your Community
Tips for Effective Communication
Social Media Impact on Society
Water Conservation
Moral Topics for Assembly
"Respect for All: Equality and Inclusivity"
"Honesty: The Backbone of Trust"
"The Power of Kindness"
"Empathy: Walking in Others' Shoes"
"Responsibility: A Pillar of Character"
"Courage: Overcoming Fear and Facing Challenges"
"Integrity: Staying True to Our Values"
"The Importance of Altruism: Helping Others Selflessly"
"Patience: The Virtue of Waiting"
"Gratitude: Appreciating What We Have"
These Assembly Speech topics are for classes 3,4,5,6,7,8,9,10 and Class 11, and 12th Students.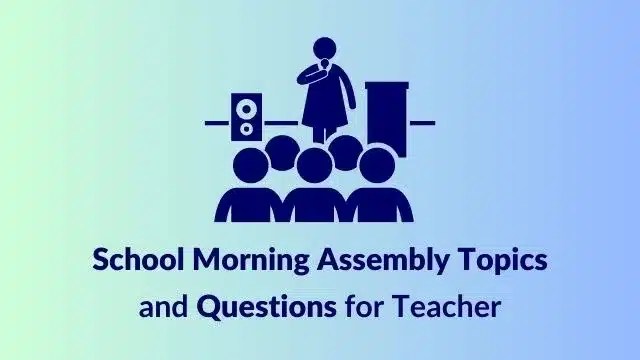 With these School morning assembly speech topics, you'll be able to engage and inspire your classmates with thought-provoking and informative messages. So, choose a topic that resonates with you, do some research and prepare a compelling presentation to deliver at your school's morning assembly.
Some More Moral-Based Topics for Daily School Assembly
| Topic 1 | Topic 2 |
| --- | --- |
| Hard Work and Success | How to Focus Mind |
| Character and Success | Perseverance |
| Best Ways of Learning | Ethics and Etiquette |
| Power of Reading | Meditation and Health |
| Positive Attitude and its Benefits | Importance of Punctuality |
Read More Related Topics
Read More Posts Related to Morning Assembly
Looking for unique and interesting topics for your school assembly? Check out our list of moral Values Topics, motivational topics, and thought-provoking assembly topics for students.
you will find also some interesting assembly speech topics for class 9, 10, 11 and class 12. Make your next school assembly a success with these engaging and impactful ideas. Read on to discover more!
CBSE Sample Papers | CBSE Circulars |  Quizzes | Study Material
Join our Premium Telegram and Whatsapp Channel for More News and Updates