Swami Vivekananda 
Swami Vivekananda Biography: Arise, awake and don't stop till you achieve your goal. This mantra of life was given to the world by Swami Vivekananda. His identity was not just that of a spiritual master, his life itself encompasses the identity and culture of India. We are remembering Swami Vivekananda, who is proficient in many subjects, because today is his death anniversary. His life is a lesson for everyone especially the youth. This is the reason why January 12 is celebrated as National Youth Day.
Swami Vivekananda was born on 12 January 1863 in Calcutta. His house name was Narendra Dutt. He was a meritorious student since childhood. He was interested to know life and the mysteries related to life. In the year 1871, at the age of just 8, he took education from Ishwar Chandra Vidyasagar Metropolitan Institute. He completed his college education from Presidency College and after completing college, he became an expert in many subjects. Apart from studies, he was also interested in sports.
Swami Vivekananda Born : 12 January, 1863
Swami Vivekananda Place of Birth: Kolkata, India
Childhood Name of Swami Vivekananda: Narendranath Dutta
Father Name of Swami Vivekananda: Vishwanath Dutta
Mother Name of Swami Vivekananda : Bhuvaneshwari Devi
Swami Vivekananda Education: Calcutta Metropolitan School; Presidency College, Calcutta
Swami Vivekananda Religion: Hinduism
Swami Vivekananda Guru: Ramakrishna
Swami Vivekananda Founder of: Ramakrishna Mission (1897), Ramakrishna Math, Vedanta Society of New York
Swami Vivekananda Philosophy : Advaita Vedanta
Swami Vivekananda Death: 4 July, 1902
Swami Vivekananda Place of Death: Belur Math, Belur, Bengal
Memorial of Swami Vivekananda : Belur Math. Belur, West Bengal
Swami Vivekananda and Ramakrishna Paramhansa
Ramakrishna Paramhansa was his guru. The two met for the first time in the year 1881 at the Dakshineswar temple. Ramakrishna Paramhansa was a saint and a spiritual figure. Narendra was greatly influenced by Ramakrishna Paramhansa and Narendra started going there daily. Although initially Narendra did not accept his principles and arguments, in fact Ramakrishna advised to take the path of devotion. He was a devotee of Maa Kali, but with time Narendra's spiritual inclination started towards her and eventually he accepted Ramakrishna's method of devotion and left Brahmo Samaj.
Swami Vivekananda :

The hunger for knowledge made Narendra Vivekananda
Swami Vivekananda's father died in 1884 and due to the deteriorating financial condition of the family, the responsibility of the family fell on Narendra's shoulders. He used to go hungry many times but his inclination towards religion and devotion did not diminish. When his entire focus should have been on employment or improving the economic condition of the family, then he used to go to the temple every day and spend time with Ramakrishna Paramahansa.
Swami Vivekananda's Chicago Speech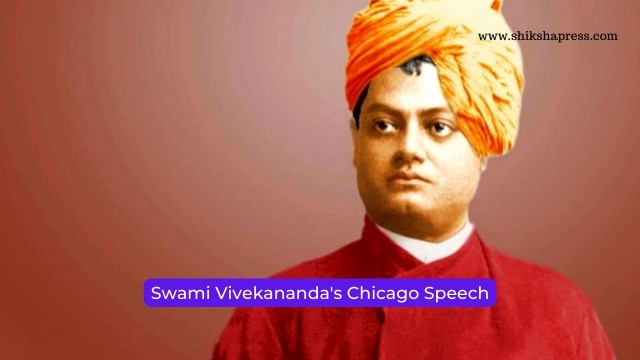 At the age of 25, Narendra Dutt started wearing ocher clothes. After which he traveled to India on foot. In 1893, the World Parliament of Religions was being held in Chicago, America. Swami Vivekananda reached there as the representative of India. At that time India was the slave of the British and the frontline countries of Europe and America looked at the people of India with inferiority complex. Many people present there did not want Swami Vivekananda to give a speech in this Sarva Dharma Parishad, but when he got a chance to speak, the whole world bowed before him.
Read Swami Vivekananda's Chicago Speech .pdf
That day of September 11, 1893 was forever recorded in the pages of history. As he began his speech with the line 'My American brothers and sisters' the entire auditorium erupted in applause. People were just as mesmerized by his speech. Swami Vivekananda said that my heart is filled with happiness, I thank all of you on behalf of the world's oldest civilization. There was a sense of respect for all religions in his speech. The media covering the conference considered him to be one of the best orators who enthralled the audience.
The world got to know him after his speech at the Parliament of Religions in Chicago. Big American scholars also became his admirers. After this Vivekananda worked there for the next two years giving speeches on Vedanta. A community of his devotees was formed in America. He was warmly welcomed wherever he went. In 1894, he laid the foundation of the Vedanta Society in New York. After this he visited England in 1895.
Life lessons of Swami

Vivekananda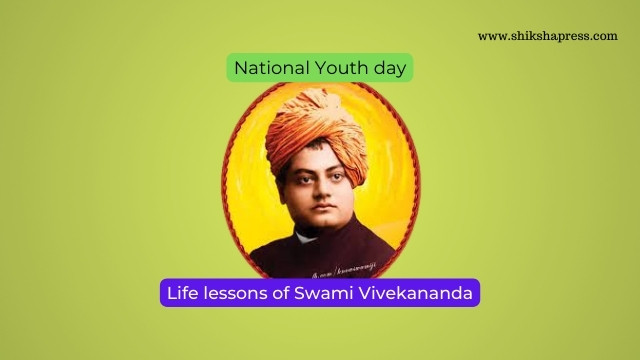 In 1886, his guru Ramakrishna Paramhansa died and he chose Swami Vivekananda as his successor. Swami Vivekananda founded the Ramakrishna Mission in Calcutta on 1 May 1897 and the Ramakrishna Math at Belur on the banks of the Ganga on 9 December 1898.
Swami Vivekananda's interest was in music, literature and philosophy. He was also fond of swimming, horse riding and wrestling. At the age of 25, he had acquired knowledge of all kinds of ideologies of Vedas, Puranas, Bible, Quran, Guru Granth Sahib, Capitalism, Economics, Political Science, Literature, Music and Philosophy. The world was convinced of his speech style. Many of his works will continue to show the way to today and future generations.
After returning from America in 1899, Swami Vivekananda began to remain ill. He died on 4 July 1902 after a long illness. At the age of 39, Ramakrishna died in a meditative state at Belur by taking Mahasamadhi. He was cremated on the banks of the Ganges in Belur. This was the place where the last rites of his guru Ramakrishna Paramhansa took place.
For breaking news and live news updates, like us on Facebook or follow us on Twitter and Join our Premium Telegram Channel . Read more on Latest Exams & Results News on Shikshapress.com.