National Sports Day:

Birth Anniversary of Dhyan Chand
August 29 is celebrated as the National Sports Day in India which is also the birth anniversary of hockey wizard Dhyan Chand. National Sports Day is a timely reminder for the need for sporting activities in life and to honour the remarkable achievements of all those exemplary sportspersons who have represented India in various sports and made our nation proud. Not only that, this Day also applauds the support given by the families, coaches and support staff towards the success of the talented athletes of our nation.
NATIONAL SPORTS DAY: India celebrates National Sports Day on 29th August to commemorate the birth anniversary of hockey legend, Major Dhyan Chand. The day is also dedicated to the nation's sports heroes and champions, honoring their contributions and dedication to bringing laurels to the country. 
Why We Celebrate National Sports Day?
The primary goal of this Day is to popularise sports and support sporting talent in India. At a time when India is surpassing conventional ways, adopting new disciplines and building momentum where more and more of our sportspersons are gaining global recognition is it important to keep that momentum going by infusing the youth with energy and replenishing it with supporting Government policies and schemes. Furthermore, sports build tenacity and determination among people along with the promotion of health and fitness.
The National Sports Day is also an occasion that sees the nation honour its sporting heroes with recognitions like the Major Dhyan Chand Khel Ratna (formerly called the Rajiv Gandhi Khel Ratna), Arjuna Award, Dhyan Chand Award, and the Dronacharya Award. At a special ceremony held at the Rashtrapati Bhavan, the President of India takes this day to confer these awards.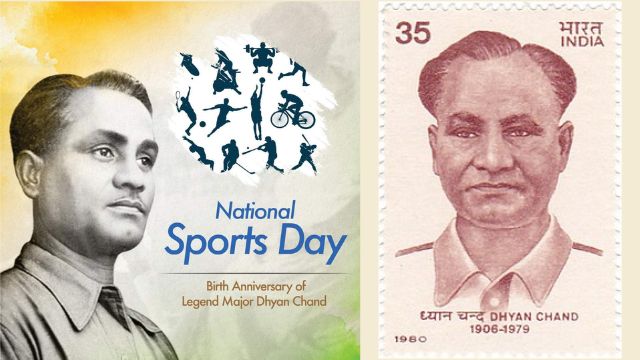 Who is Major Dhyan Chand?
Hockey player Major Dhyan Chand has reserved a special 35 place for himself in Indian Sports history. Born in Allahabad (Prayagraj) in Uttar Pradesh on August 29, 1905, as Dhyan Singh, he rose to prominence in the pre-independence period. He was the star of the Indian hockey team that dominated the sport in the years before World War II.
Starting his hockey career with the regimental team of the British Indian Army, a young Dhyan Singh was a special talent whose dedication towards his crafts made in stand out. He used to spend most of the day in regimental duties and practice hockey in the night under the moonlight and that is the reason which earned him the name Dhyan Chand.
Read More: Know why National Sports Day is celebrated? 
Dhyan Chand went on to rule the world of hockey with his delightful stick work and understanding of the game that earned him the moniker of 'Hockey Wizard' and 'The Magician'. The hockey legend's career spanned from 1926 to 1948 and ended as one of the greatest hockey players of all time after having represented India in 185 matches and scored over 400 goals during this period. He played an important role in helping India complete their first hat-trick of Olympic gold medals with wins at the 1928, 1932, and 1936 Summer Olympics. The Indian Government conferred him with the Padma Bhushan in 1956.
Click Here to Participate in National Sports Day General Knowledge Quiz on Sports
Join our Premium Telegram and Whatsapp Channel for More News and Updates
For breaking news and live news updates, like us on Facebook or follow us on Twitter and Join our Premium Telegram Channel. Read more on Latest Exams & Results News on Shikshapress.com.