How Teachers Can Start Making Money from Facebook: A Step-by-Step Guide for Beginners
Make money on Facebook as a teacher: Are you a teacher looking to explore new avenues of income? With over 2.8 billion monthly active users, Facebook has become a powerful platform for teachers to connect with students, share knowledge, and even monetize their expertise.
So, if you're looking to boost your income and explore new avenues, dive into the world of Facebook monetization for teachers. Start implementing these strategies and witness the transformation of your teaching passion into a rewarding and profitable endeavour.
In this step-by-step guide, we will explore how teachers can start making money from Facebook, specifically tailored for beginners. Let's read How to make money with Facebook as a Teacher. 
Step 1: Set Up a Professional Facebook Page
Create a dedicated Facebook page for your teaching activities and earnings. Choose a clear and professional page name that reflects your niche or expertise.
Fill in all the necessary information, including a compelling bio, contact details, and a link to your website or blog (if applicable). Customize your page's profile and cover photo to create a visually appealing and consistent brand image.
Step 2: Define Your Target Audience and Content Strategy
Identify your target audience on Facebook. Determine the age group, subject, or niche that you want to cater to. This will help you create content that resonates with your audience.
Plan your content strategy by deciding what type of content you will share, such as educational videos, tips, resources, or live sessions. Aim to provide value and engage your audience with informative and engaging posts.
Step 3: Create Engaging and Valuable Content
Consistently create high-quality content that aligns with your target audience's needs and interests. Share informative posts, educational videos, infographics, quizzes, or tutorials.
Use multimedia elements such as images and videos to make your content more engaging. Encourage interaction by asking questions, starting discussions, or conducting polls.
Step 4: Grow Your Facebook Page's Audience
Promote your Facebook page to expand your reach and attract more followers. Utilize your personal network by inviting friends, colleagues, and students to like and follow your page.
Share your page on other social media platforms, educational groups, and relevant communities. Engage with other Facebook pages and groups within your niche by leaving thoughtful comments and sharing valuable insights.
Step 5: Utilize Facebook Live and Video Content
Leverage Facebook Live to connect with your audience in real time. Conduct live Q&A sessions, virtual classes, or demonstrations to engage and interact with your followers.
Additionally, create pre-recorded educational videos that can be shared on your page. Experiment with different video formats, such as tutorials, lectures, or storytelling, to cater to various learning preferences.
Step 6: Build an Engaged Community
Nurture a community of engaged followers on your Facebook page. Respond promptly to comments, messages, and questions.
Encourage discussions, provide additional resources, and celebrate the achievements of your students or followers. By fostering a supportive and interactive community, you'll create a loyal following that values your expertise.
Step 7: Monetization Strategies on Facebook
Now that you have established a strong presence on Facebook, it's time to explore monetization strategies:
a. Online Courses: Create and sell online courses directly on Facebook using the Facebook Courses feature. Develop comprehensive courses based on your expertise and offer them to your followers at a competitive price.
b. Paid Memberships or Subscriptions: Offer exclusive content, resources, or personalized support to your followers through a paid membership or subscription model. Use Facebook's subscription feature to provide premium content to your loyal audience.
c. Sponsored Posts or Product Promotions: Collaborate with relevant brands or companies to create sponsored posts promoting their products or services. Ensure that the products align with your teaching niche and are of value to your audience.
d. Digital Products or Resources: Develop and sell digital products such as e-books, lesson plans, worksheets, or educational resources directly on your Facebook page. Use Facebook's built-in Shop feature or external platforms like Gumroad to facilitate the sale.
e. Coaching or Tutoring Services: Offer personalized coaching or tutoring services to individuals or groups. Use Facebook Messenger or video calls to provide one-on-one or group sessions to interested students.
Facebook Money Making Ideas for Teachers
Here's a List of Works that Can be done on Facebook to Earn Money:
| | |
| --- | --- |
| Facebook Ideas | Facebook Ideas |
| Social media management | Affiliate marketing |
| Content creation | Sponsored posts |
| Facebook ads management | Online Coaching |
| Virtual assistant services | Selling digital products |
| Influencer marketing | Brand collaborations |
| Facebook group management | E-commerce sales |
| Event planning and promotion | Content writing |
| Facebook Live hosting | Online tutoring |
| Graphic design services | Dropshipping |
Please note that this is not an exhaustive list, and there are many other opportunities to earn money on Facebook. These are just some popular options to consider.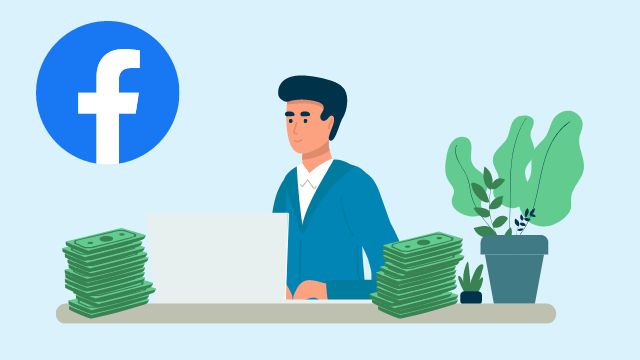 Step 8: Promote and Market Your Monetization Offers
Market your monetization offers to your Facebook audience through regular posts, stories, or dedicated promotional campaigns. Highlight the value, benefits, and unique features of your offerings.
Utilize Facebook's advertising tools to target specific demographics or interests that align with your teaching niche.
Tips for Teachers to Success on Facebook
1. Be Consistent: Consistency is key to building a strong presence on Facebook. Regularly post engaging content that resonates with your audience. Show up consistently to keep your followers engaged and build a loyal community.
2. Be Patient: Success on Facebook takes time. Don't expect overnight results. Stay committed to your goals and keep working towards them. Patience is essential as you grow your following, engagement, and ultimately, your success on the platform.
3. Be Creative: Stand out from the crowd by being creative with your content. Experiment with different formats, visuals, and storytelling techniques. Find unique ways to showcase your expertise and connect with your audience. Creativity will help you capture attention and make a lasting impression.
Remember, success on Facebook is a journey, not an instant destination. Stay consistent, be patient, and let your creativity shine. Enjoy the process and watch your Facebook presence thrive!
Read These Posts Too:
Conclusion:
By following these step-by-step guidelines, teachers can leverage Facebook as a powerful platform to monetize their expertise and connect with a wider audience.
Remember to focus on providing valuable content, building an engaged community, and exploring various monetization strategies that align with your teaching niche.
With dedication and consistency, Facebook can become a fruitful avenue for teachers to earn income while making a meaningful impact in the educational space.
CBSE Sample Papers | CBSE Circulars |  Quizzes | Study Material
Join our Premium Telegram and Whatsapp Channel for More News and Updates.
For the Latest Educational News (CBSE, ICSE, and State Board News) and live news updates, like us on Facebook or follow us on Twitter and Join our Premium Telegram Channel. Read more on Latest Exams & Results News on Shikshapress.com.