Write a Letter to the Editor of a Newspaper Regarding Reckless Driving by Youngsters
Welcome to Shikshapress, today we will talk about the issue of driving of youngsters, nowadays on the streets of the every city, youngsters drive bikes and cars like there is no one on the road, many times we have seen terrible accidents in which the lives of youngsters have also been lost. Today we will make the editor of the newspaper aware of this through a letter and request him to print this serious issue on the front page of his newspaper.
Let's Read Letter to the Editor of a Newspaper on Reckless Driving by Youngsters in City / Area . 
Letters to the Newspaper Editor: A letter to editor is a letter sent to a newspaper / magazine about issues of concern from its reader. Expressing views regarding social issues, Drawing attension to a problem and other public issues. Usaully, letters are intended for publication.
How to write a letter to an Editor ?
Begin with refrence to a recent development/issue/event.
Offer suggestions and solutions.
Give details of the topic bring out cause effect relationship.
How do you write a letter to the editor of a newspaper on reckless driving by youngsters?
22, Adarsh Nagar
New Delhi
Dated 24 April 20…
To,
Editor sir,
Dainik Jagran
New Delhi.
Subject: About preventing road accidents.
Sir,
Through your popular newspaper, I want to draw the attention of the government and society towards the increasing number of road accidents. Hope you will definitely publish it in the public interest These days there is a flood of road accidents in Delhi, the drivers violate the traffic rules, especially the youngsters, and there is no one to stop them.
I request you to take the trouble of taking my following suggestions to the government and the public. From 8:00 am to 12:00 pm, from 5:00 to 8:00 pm, Traffic Police Constables were stationed at all busy intersections and challaned people who violated the rule. Those driving the vehicle while talking on the mobile phone should be challaned immediately. People should drive their vehicles within the prescribed speed limit.
Those drivers who follow all the traffic rules should be rewarded. I request the public to note down the vehicle numbers of such drivers and give them to the police who violate the rules while driving on the road.
Thank you!
Sincerely
Mukesh Kumar
Social Worker
Adarsh Nagar, Delhi
Mobile No. XXXX
---
Letter to the Editor of a Newspaper on Rash / Reckless Driving by Youngsters #2
The Sender's Name,
Door Number and Street's Name,
Area Name,
City.
Postal Code : XXXXXXX
Phone Number : 0000 – 123456789
E-mail ID : [email protected]
Date :
Reference :
TO :
Addressee's Name,
Designation,
The Company's Name,
Full Address with Phone Number.
Subject : About Reckless Driving by Youngsters
Dear ____,
Through the columns of your esteemed daily, I wish to draw the attention of Traffic Police of Delhi towards reckless driving.
It is high time that proper steps are taken to put a stop to the rash and reckless driving of motor cars and other vehicles in the streets of our thickly populated city. Only two days ago, a poor old beggar narrowly escaped from being run over by a motor car going at a very high speed. The beggar was crossing the street when a, car came dashing along at a speed above ninety kilometers an hour.
Many women and children who try to cross the roads of this over populated city become victims to such reckless driving. This has caused many fatal accidents.
There is no doubt that regulations regarding speed limit do exist But the drivers pay no heed. The police too take little or nonotice of these offenders. Hence, accidents are almost a dailyoccurrence.
The police must strictly enforce the regulations regarding limit.The public who are the worst sufferers, must bring pressure tobear Upon the police and other authorities to put a stop to reckless And negligent driving, otherwise this menace will continue unabated Leading to more deaths.
Thanking you.
Yours Sincerely,
(The Sender's Signature)
The Sender's Name
---
(letter source Social media Kindly DM for credit)
Above we gave you how to write a letter to an editor for Class 6, 7, 8, 9, 10, 11 and Class 12 in english.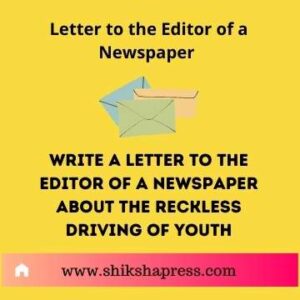 Some important Letter Writing Questions in Board or School Final Examinations are :
menace of reckless driving

letter to the editor on rash driving by bus drivers

write a newspaper report on reckless driving by the youngsters and its implications

write a letter to the editor of a newspaper on reckless driving class 8

write a letter to the editor of a newspaper on reckless driving in your area.

write a letter to the editor of a newspaper on reckless driving class 10
Join our Premium Telegram Channel for More Study Material
For breaking news and live news updates, like us on Facebook or follow us on Twitter and Join our Premium Telegram Channel. Read more on Latest Exams & Results News on Shikshapress.com.
write a letter to the editor of a newspaper against the rash driving of buses