Chanakya's Secrets to Success: Motivational Quotes for Student Inspiration
Quotes of Chanakya on Education: You may look no further than the aeon's wisdom of Chanakya for inspiration and motivation on your journey to success.
Chanakya was a political guru and philosopher in ancient India, and his wisdom has stood the test of time. We shall look at some of Chanakya's most inspiring statements about education as well as a selection of his success and motivational English quotations in this article.
These sayings give valuable advice and practical insights for anyone pursuing their goals, whether they are students, professionals, or other types of people. For added convenience, you may download a PDF of Chanakya's quotes in English.
Let's explore the universe of Chanakya's inspirational and educational quotes to see what we can learn.
Chanakya Educational Quotes in English for Students' Success | Chanakya Quotes from Chanakya Niti
Chanakya quotes that can inspire and motivate students
Education is the best friend. An educated person is respected everywhere. Education beats beauty and youth. – Acharya Chanakya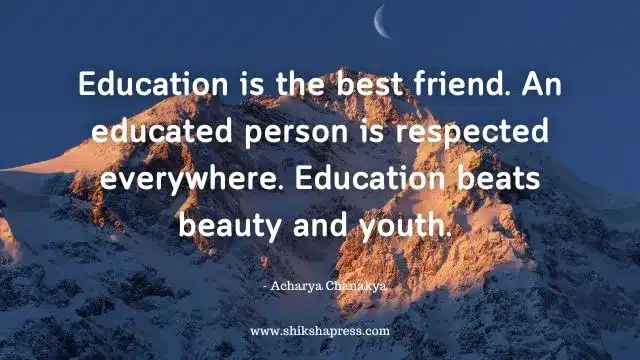 The world's biggest power is the youth and inner beauty of a woman. – Acharya Chanakya
A person should not be too honest. Straight trees are cut first and honest people are screwed first. – Acharya Chanakya
The biggest guru mantra is: never to share your secrets with anybody. It will destroy you. – Acharya Chanakya
The fragrance of flowers spreads only in the direction of the wind. But the goodness of a person spreads in all directions.- Acharya Chanakya
The biggest enemy of success is the fear of failure. – Acharya Chanakya
As long as your body is healthy and under control and death is distant, try to save your soul; when death is imminent, what can you do? – Acharya Chanakya
There is no austerity equal to a balanced mind, and there is no happiness equal to contentment; there is no disease like covetousness and no virtue like mercy. – Acharya Chanakya
The wise man should restrain his senses like the crane and accomplish his purpose with due knowledge of his place, time and ability. – Acharya Chanakya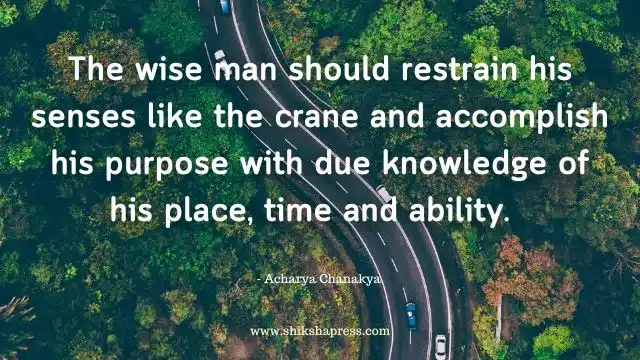 The happiness and peace attained by those satisfied by the nectar of spiritual tranquillity are not attained by greedy persons restlessly moving here and there. – Acharya Chanakya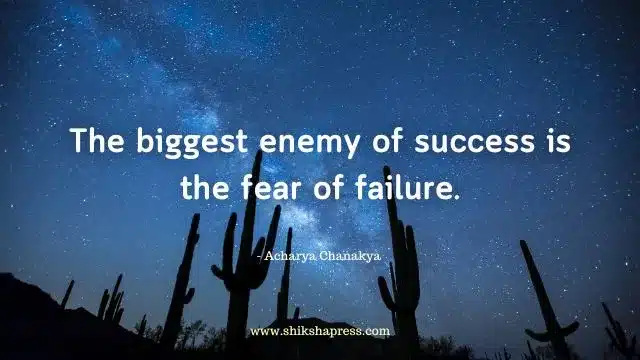 These Acharya Chanakya Quotes can help students learn about the importance of education, integrity, humility, self-control, and discipline.
FAQ
How can Chanakya's quotes help students?
Chanakya's quotes can help students traverse the difficulties of both their personal and academic lives by providing insightful advice. They can provide useful guidance for success as well as assist pupils in cultivating crucial traits like self-control, discipline, humility, and tenacity.
Where can I find more Chanakya quotes in English?
More English Language quotations from Chanakya can be found online in a variety of places, such as quote databases, blogs, and social networking pages. His lessons are also included in books and other publications.
What is the best quotes by Chanakya on education?
Read the Above best quotes by Chanakya on education.
In conclusion, Chanakya's motivational quotes in English offer valuable insights and inspiration for students seeking success and personal growth.
From his emphasis on the importance of education to his practical advice for achieving goals, Chanakya's wisdom is just as relevant today as it was centuries ago.
By incorporating his teachings into their lives, students can develop qualities like discipline, humility, and perseverance, which are essential for achieving success.
So, let's take inspiration from Chanakya's timeless words and strive to achieve our goals with focus and determination. Remember to keep his motivational quotes in mind on the journey to success.
CBSE Sample Papers | CBSE Circulars |  Quizzes | Study Material
Join our Premium Telegram and Whatsapp Channel for More News and Updates
For the Latest Educational News (CBSE, ICSE, and State Board News) and live news updates, like us on Facebook or follow us on Twitter and Join our Premium Telegram Channel. Read more on Latest Exams & Results News on Shikshapress.com.