CBSE Expression Series 2023-24: Register by May 13
CBSE expression series 2024: CBSE Released a Circular Regarding 1st CBSE EXPRESSION SERIES for the Session 2023-24 for CBSE Students. In this post, you will come to know about First CBSE Expression Series Registration, Circular, and Latest Update News.
CBSE Expression Series (1st) for the session 2023-24
Registrations are open for CBSE Expression Series 2023-24 for Class 3-12 Students. The CBSE 1st Expression Series for the session 2023-24 will be based on the theme 'Skill Development in India: From Local to Global' on the following topics:
| | | |
| --- | --- | --- |
| Class Category  | Medium | Topic |
| Primary (Class 3 to 5) | Paragraph (150 words) / Painting | A famous Indian personality who achieved success through his/her skills or Skills a child needs to excel |
| Middle (Class 6 to 8) | Essay (400 words)/ Painting/ Poem | According to me, the best example of Kabaad se Jugaad or Local skill of my district which I can promote |
| Secondary (Class 9 to 10) | Essay (700 words) / Painting / Poem | Emerging Industries and required skills or Role of Education in Skill Development |
| Senior Secondary (Class 11 to 12) | Essay (1000 words) / Painting / Poem | Globalization and the need for globally-relevant skills or Skill development for inclusive and sustainable economic growth |
How to Conduct CBSE 1st Expression Series 2023-24:
CBSE Schools shall organise the school-level 1st CBSE Expression Series during school hours on the above topics from 24th April to 3rd May 2023. Information on the conduct of the Expression Series should be given to all students.
For participation in 1st CBSE Expression Series activities, i.e. Essays/ Paragraphs/ Paintings/Poems etc., please use the participants' sheet given below or a sheet with all details as given therein.
Download – CBSE Expression Series Submission Form Pdf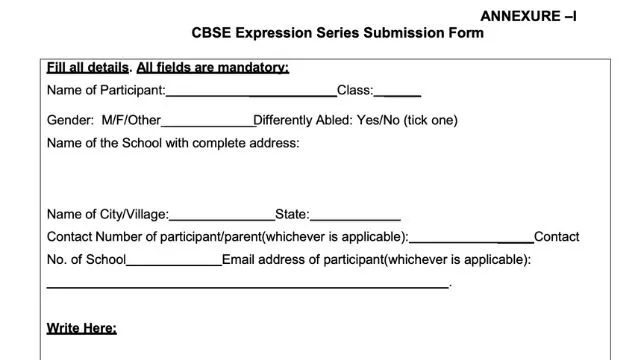 (Please attach additional sheets, if required. But all sheets must have the details as above,failing which the sheet will not be evaluated)
Photographs / Essays can be written in Hindi or English in Expression Series.
Schools shall complete the evaluation of entries and shortlist one entry per class category (total of 04 entries from a school) for onward submission to CBSE.
Entries must be supported by a Certificate of the Head of the Institution/ Teacher In-charge that the entry is the original work of the participant.
How to Submission of the Shortlisted Entry by Schools to CBSE?
Submission of the CBSE Expression Series Shortlisted Entry by Schools to CBSE:
CBSE Schools can submit/upload the entries from 4th May to 13th May 2023 using an Android phone through CBSE Expression Series App available at the Google Play store.
For guidelines on the process of submission, please read these instructions
Guidelines for Entry Submission by School | Expression Series Android App Usage Details:-
Requirement: Android smartphone having operating system version 5.0 and above with internet connectivity.
1. CBSE Expression Series app may be downloaded and installed from Google Play Store. At the time of installation, please ensure that you "Accept" the permissions asked by the app.
2. Tap on the "CBSE Expression Series" icon to launch the App and follow the steps given below:
Step 1: Enter Affiliation No and LOC/Registration Password as Password and then tap on the "SUBMIT" button.
Follow the steps given below after successful authentication.
Enter the Name of the Candidate.
Enter your mobile number.
Enter E-Mail ID.
Enter the Roll Number generated at the school level.
Select a class category(primary/ middle/secondary/senior secondary).
Select Class.
Tap on the "Take Photo" button to click the picture or select a picture from the media. Please ensure that the sheet contain all required details as given in Annexure I.
Tap "Upload Photo" and Upload the picture on the server.
Certificate of Originality of Entry.
Click on 'View Certificate' for the online certificate generated after the successful submission of entry by the school. For Viewing the online certificate, Kindly enter your mobile number and roll no. and click search.
Read More Posts
CBSE Sample Papers | CBSE Circulars |  Quizzes | Study Material
Join our Premium Telegram and Whatsapp Channel for More News and Updates
For the Latest Educational News (CBSE, ICSE, and State Board News) and live news updates, like us on Facebook or follow us on Twitter and Join our Premium Telegram Channel. Read more on Latest Exams & Results News on Shikshapress.com.