UPSC Calendar 2024, Exam Dates Out for Multiple Exams
UPSC Exam Calendar 2024 Out: According to the exam calendar of 2024 released by UPSC, UPSC Civil Services Prelims 2024 and Indian Forest Service (IFS) Prelims 2024 will be held on May 26, 2024. Candidates can check the exam calendar by visiting the official website of UPSC upsc.gov.in.
UPSC Exam Calendar 2024 Released: Comprehensive Overview and Important Dates
UPSC Exam Calendar 2024 – Important Dates and Details
| UPSC Examination | Notification & Application Date | Exam Date |
| --- | --- | --- |
| Civil Services (Preliminary) Examination, 2024 | 14th February 2024 – 05th March 2024 | 26th May 2024 [Sunday, 1 day] |
| UPSC CAPF 2023 Exam (ACs) | 24th April 2024 – 14th May 2024 | 04th August 2024 [1 day] |
| NDA & N.A. (II) Exam 2024 | 15th May 2024 – 04th June 2024 | 01st September 2024 [1 day] |
| Civil Services (Main) Exam 2024 | – (Based on Prelims Results) | 20th September 2024 [5 days] |
UPSC Exam Calendar 2024 – Calendar Unveiled by UPSC
On May 10, 2023, the Union Public Service Commission (UPSC) released the UPSC Exam Calendar 2024 in PDF format on its official website. The calendar delivers essential dates, including those for notifications, online registration commencement, and exam schedules. Aspiring candidates can access the UPSC Exam Calendar 2024 PDF directly from the given link in this article. The schedule is crucial for those planning their studies around the UPSC Exams for 2024.
Steps to Access the UPSC Exam Calendar 2024
To download the UPSC Exam Calendar 2024 from the official website, candidates need to:
Visit UPSC's official website at upsc.gov.in.
Click on the "Examination" tab situated on the right side of the homepage.
Choose "Calendar" from the drop-down menu.
Click on the "UPSC Exam Calendar 2024" link.
The calendar will display in PDF format. Click the download button to save the UPSC Calendar 2024 for reference.
Detailed Insight into (upsc.gov.in) UPSC Exam Calendar 2024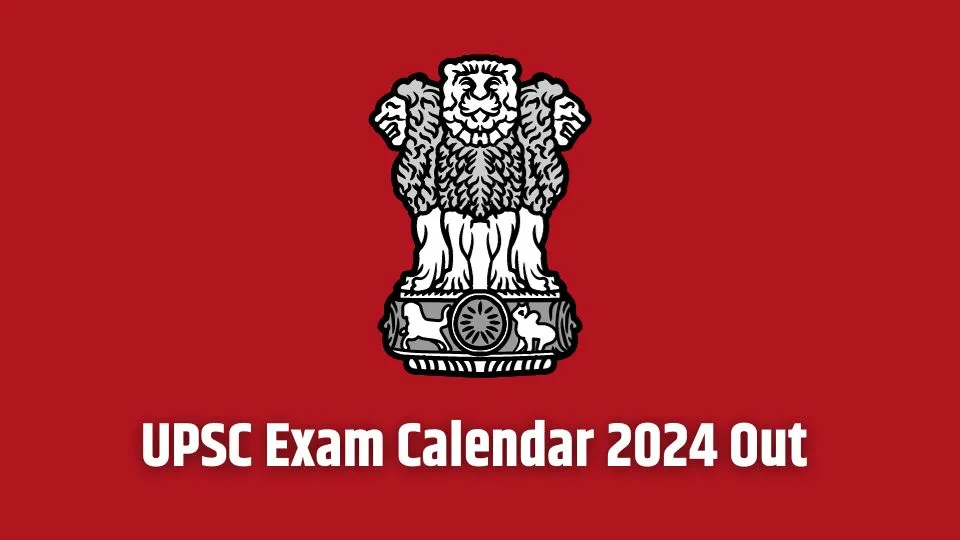 UPSC Calendar's Vital Role
The UPSC Exam Calendar 2024 directs the aspirations of candidates aiming to serve in India's civil services. The schedule encompasses pivotal exams and recruitment tests managed by the UPSC throughout 2024. A few highlighted examinations include:
UPSC Prelims Exam: Scheduled for the 26th of May, 2024, with the UPSC Notification releasing on the 14th of February, 2024. This exam assesses a variety of subjects and is crucial for those aspiring to join notable civil services like the Indian Administrative Services and Indian Police Services.
UPSC CAPF Exam: Set for 4th August 2024, this exam is vital for those aiming to join forces like the Border Security Force and Central Reserve Police Force.
UPSC NDA Exam: Scheduled in two parts, with NDA I on 21st April 2024 and NDA II on 1st September 2024. It offers young individuals a chance to join defense sectors like the Indian Army, Navy, and Air Force.
The UPSC 2024 Exam Calendar is instrumental for candidates, detailing various examination timetables, application submission timelines, and more. Candidates can now efficiently strategize their preparation plans.
Importance of the UPSC Calendar 2024 @ upsc.gov.in
The UPSC Calendar 2024 serves as a lighthouse for candidates. Some of its significances include:
UPSC 2024 Exam Schedule: Helps candidates to strategize their preparation plans and remain updated on critical dates.
Application Deadlines: Assists candidates in tracking and adhering to application deadlines.
Other Key Dates: Keeps candidates informed about other vital dates such as admit card releases and result announcements.
The UPSC Calendar is crucial for those aiming to serve the nation through the civil services. It acts as a guide, providing information on exams and critical deadlines.
Previous Year's Glimpse: UPSC Exam Calendar 2023
For reference, candidates can also view the UPSC Exam Calendar 2023, which details the exam dates for various UPSC examinations conducted in 2023. The UPSC Annual Calendar 2023 includes important dates for several central government recruitments. An overview of the UPSC Exam Calendar 2023 is provided below, detailing exams like the Civil Services Preliminary Examination and the Indian Forest Service Preliminary Examination.
CBSE Sample Papers | CBSE Circulars |  Quizzes | Study Material
Click Here to Join our Premium Telegram for More News and Updates.
Download ShikshaPress App For Free Educational Updates
For the Latest Educational News (CBSE, ICSE, and State Board News) and live news updates, like us on Facebook or follow us on Twitter and Join our Premium Telegram Channel. Read more on Latest Exams & Results News on Shikshapress.com.