Parent-Teacher Meetings: An Effective Strategy Guide
PTM Tips: Navigating parent-teacher meetings (PTMs) effectively is a critical skill for today's educators. These interactions, when done right, can significantly contribute to student success and overall school experience.
Let's delve deeper into the practices that can enhance the effectiveness of these (PTMs) meetings.
Setting the Stage: Preparation is Key
Adequate preparation sets the tone for a productive meeting. It involves:
Understand the Student: Begin with a comprehensive understanding of the student's academic standing, behavior, social interactions, strengths, and areas needing improvement. Gather relevant data, work samples, and observational notes.
Define Objectives: Clarify the purpose of the (PTM) meeting. Whether it's to share academic progress, address behavioral concerns, or discuss additional support, having a clear agenda aids focused discussion.
Creating a Welcoming Environment: Fostering Open Communication
Establishing an atmosphere of trust and mutual respect is essential for open dialogue.
Empathetic Communication: Connect with parents empathetically. Acknowledge their concerns and reassure them of your shared interest – their child's development.
Active Listening: Practice active listening. Pay attention to the parents' feedback and perceptions, reflecting understanding in your responses.
The Heart of the Meeting: Collaboration and Problem-Solving
Effective meetings revolve around collaborative problem-solving.
Presenting Evidence: Share the data collected, giving a clear picture of the student's progress or areas of concern. This could include grades, projects, behavior logs, or social interaction observations.
Shared Problem-Solving: Involve parents in formulating strategies for improvement. Their insights about their child's habits and attitudes at home can be valuable.
Beyond the Meeting: Follow-Up Actions
The success of the meeting doesn't end when it concludes. Effective follow-up actions are crucial to ensure continuity and progress.
Action Plan: Implement the strategies discussed during the Parent Teacher Meeting. This could involve academic accommodations, behavior modification strategies, or additional resources for learning.
Follow-up Communication: Keep the parents updated about the progress or changes. Emails, notes, or subsequent meetings can facilitate this.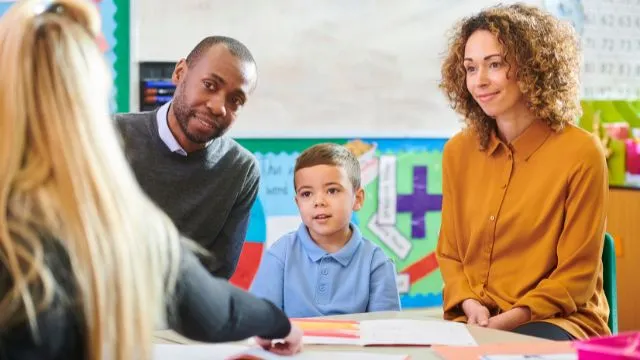 5
Best Tips

for Teachers for "How to Handle Parent-Teacher Meetings Effectively?"
"Prepare thoroughly for PTMs, understanding each student's academic performance and behavior."
"Create a welcoming environment that fosters open and honest communication during meetings."
"Emphasize collaboration, inviting parents to be a part of problem-solving discussions."
"Present tangible evidence like test scores or assignments during discussions to lend credibility to your observations."
"Ensure to follow-up post-meeting, maintaining open communication and reinforcing the collaborative relationship with parents."
In conclusion, conducting effective parent-teacher meetings is an art that blends preparation, communication, collaboration, and follow-up. Click Here to Read about morning assembly Material. 
Read This Too: 10 Practical Tips for [PTM] Parent Teacher Meeting
By honing these skills, educators can transform these interactions into powerful tools for enhancing student outcomes and fostering a vibrant educational community.
CBSE Sample Papers | CBSE Circulars |  Quizzes | Study Material
Join our Premium Telegram and Whatsapp Channel for More News and Updates.
For the Latest Educational News (CBSE, ICSE, and State Board News) and live news updates, like us on Facebook or follow us on Twitter and Join our Premium Telegram Channel. Read more on Latest Exams & Results News on Shikshapress.com.