National Council of Educational Research and Training Admission Brief Diploma Course in Guidance and Counselling (2022)

 
The course is open to Teachers, Teacher Educators, School administrators and untrained guidance personnel from India.
NCERT Course for Teachers – NCERT announces a one-year Diploma course for training of professionals in guidance and counselling, combining distance and face-to-face modes. The course aims at enhancing the skills and competencies of teachers to promote holistic development of pupils and handle their academic, socio-emotional, and ethical problems. The course is open to teachers, teacher educators, school administrators and untrained guidance personnel from India. The course will be transacted in three phases, i.e. distance (six months; January–June, 2022), face-to-face contact programme at respective study centres (three months; July–September, 2022), and internship in home town/workplace (three months; October–December, 2022). Admission to eligible candidates will be offered at DEPFE, NCERT, New Delhi and Regional Institutes of Education at Ajmer, Bhopal, Bhubaneswar, Mysuru and Shillong. Maximum number of seats at each centre will be 50. Government deputed candidates will be preferred. Advance copy will be considered for screening of applications. NCERT's decision will be final in matters of admission. For Online Application Form and other details about the course, please visit – www.ncert.nic.in Last date for submission of online application form is 05th November, 2021. 
Diploma Course in Guidance and Counselling 2022
OBJECTIVE

of NCERT diploma in guidance and counselling Course 
The course aims to train in-service teachers, teacher educators, school administrators and untrained guidance personnel as counsellors/teacher counsellors to guide and counsel students in school and other related settings.
Note: All applications should be submitted online.
Target group In-service teachers / teacher educators / untrained guidance personnel/ school administrators
Eligibility for NCERT diploma course in guidance and counselling 2022  
In-service teachers– graduates with teaching degree.

 

Candidates 'presently not working' – graduation with teaching degree and at least two years of teaching or related experience.

 

Postgraduates in psychology /education /social work / child development/special education. Preference will be given to those with at least one year of teaching or related experience.
Minimum % of marks for all target groups is 50% (5% relaxation for SC/ST). 
No. of seats

for diploma in counselling
Maximum 50 per study centre. Reservations apply as per the Government of India norms. 
COURSE MATERIAL

for NCERT Diploma in Counselling
Self-learning material in modular form is the mainstay of this course. The material covers the theory topics and provides a foundation for acquiring knowledge, attitudes and skills during practical training. 
Duration and phasing One-year, from January to December*
Guided Self-Learning | Six Months | (Distance) 
Intensive Practicum** | Three Months | (Face-to-Face) 
Internship | Three Months | (in Home Town/Workplace)
Medium of instruction 
The medium of instruction for the course is English and Hindi.
Admission procedure 
Screening of candidates will be done by a committee following a selection criteria. Shortlisted candidates will take an online selection test which includes essay writing and interview. 
In-service candidates can appear in the online selection test, if found eligible, with prior permission from their employers if deputation orders take time. 
Course fee Course fee to be paid by different categories of candidates is: 
Government deputed from centrally funded organisations Rs.19,500/

 

Government deputed from State/UT departments Rs. 6,000/-

 

Private candidates Rs.30,000/-

 

The expenditure for board and lodging during contact programme will have to be borne by the candidates. However, facilities for the same will be available for non-local candidates.
Applications complete in all respects should be submitted online mentioning clearly any one of the following study centres based on the regional basis: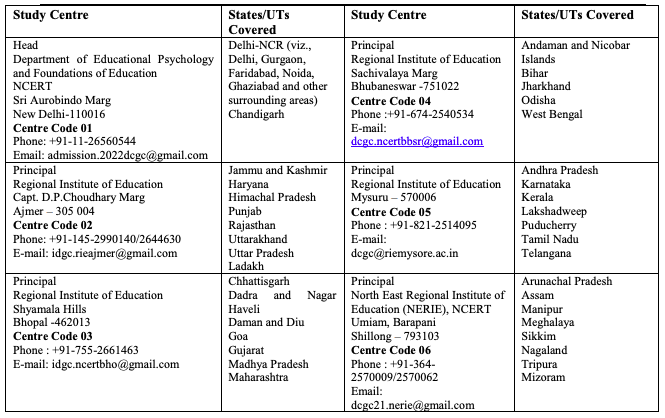 Candidates should submit their online applications by 05th November, 2021. Self-attested copies of marks/grade sheets/degrees/certificates in support of qualifications and work experience mentioned in the application form should also be attached.
Last date for submission of application from 5th November 2021.
Click Here to View Diploma Course in Guidance and Counselling Official Information Brochure 
diploma in guidance and counselling,guidance and counselling courses,diploma course in guidance and counselling 2022,diploma course in guidance and counselling,ncert diploma course in guidance and counselling,guidance and counselling,guidance and counselling diploma course,ncert guidance and counselling diploma course 2022,diploma in guidance and counselling NCERT ,advance diploma in guidance and counseling,diploma in counselling