Advisory for Indian Nationals and Indian Students in Canada
Center Issues Advisory for Indian Students in Canada | Ministry of External Affairs' Advise for Indians in Canada…Read More
India Canada Row: After the murder of Sikh separatist leader Hardeep Singh Nijjar, relations between India and Canada have experienced tension. Following this episode, there's an anticipated rise in criminal incidents against Indians in Canada. The Central Government has proactively issued guidelines for both Indian students and other citizens residing in Canada.
Specifics of the Canada Travel Advisory by MEA
The Ministry of External Affairs (MEA) cautions travelers and students heading to Canada. Emphasizing the need for vigilance, the advisory reveals a concerning "rapid increase" in anti-India movements in Canada.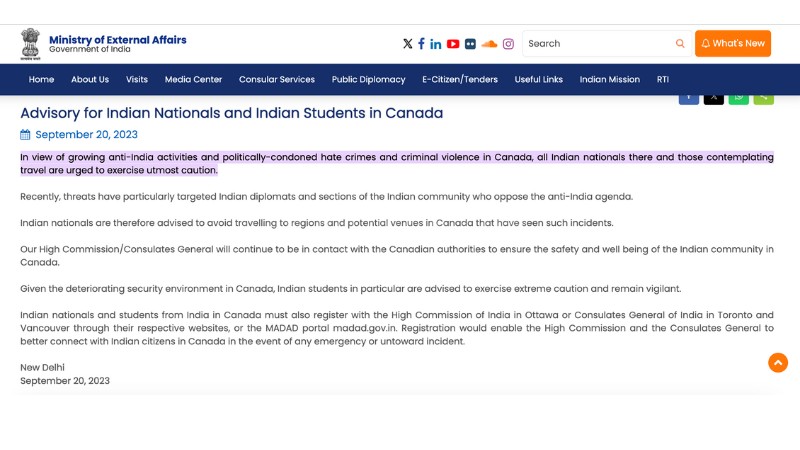 It's imperative that Indian students in Canada exercise utmost caution and reconsider travel plans. This MEA advisory particularly warns against visiting certain parts of Canada where these adverse incidents have been reported.
On September 20, a directive from the Ministry of External Affairs (MEA) implored Indian nationals to stay cautious. It also advocated for the Indian community to register with the High Commission of India in Ottawa or the Consulates General of India in Toronto and Vancouver. This can be done through their official websites or the madad.gov.in portal.
What Does the Advisory Specifically Recommend?
Government of India issues advisory for Indian students studying in Canada ↓
The government's guidelines explicitly state that the Indian diaspora should steer clear of locations known for prior instances of violence. The Indian High Commission and Embassy liaise with Canadian officials to boost safety measures for the Indian community.
Exciting news! Shiksha Press is now on WhatsApp Channels 🚀 Subscribe today by clicking the link and stay updated with the latest Educational News!" Click here!
With the escalating security scenario in Canada, Indian students receive a special note to remain on high alert. The advisory emphasizes registration with official Indian bodies. This ensures swift assistance and a stronger connection in the face of any emergencies.
Moreover, both Indian students and other citizens are consistently urged to register either with the High Commission of India in Ottawa or the Consulates General of India in Toronto and Vancouver. Registration, either through their sites or the MADAD portal madad.gov.in, augments safety measures and ensures prompt communication during urgent situations.
Click Here to Join our Premium Telegram for More News and Updates.
Download ShikshaPress App For Free Educational Updates
For the Latest Educational News (CBSE, ICSE, and State Board News) and live news updates, like us on Facebook or follow us on Twitter and Join our Premium Telegram Channel. Read more on Latest Exams & Results News on Shikshapress.com.