ISRO Workshop on Space Situational Awareness & Space Traffic Management (SSA & STM)
ISRO Workshop on Space Situational Awareness & Space Traffic Management (SSA & STM): Elevating Learning. 
The Indian Space Research Organisation (ISRO) is all set to elevate the knowledge spectrum with its upcoming ISRO Workshop on Space Situational Awareness & Space Traffic Management (SSA & STM). Designed exclusively for Indian students, researchers, and faculty members, this enlightening event is scheduled to unfold from October 12 to 14, 2023, hosted at the distinguished ISRO Headquarters in Bengaluru.
Deep Dive into SSA & STM
The workshop takes you on a captivating journey through the intricacies of Space Situational Awareness (SSA) and Space Traffic Management (STM). SSA encompasses a holistic understanding of the spatial realm, covering the precise coordinates, orbits, and functions of human-crafted entities in Space.
This comprehension extends to natural phenomena like Space weather, asteroids, and comets. The bedrock of averting collisions and mitigating Space debris effects, SSA plays a pivotal role in fostering secure, steady, and sustainable Space undertakings.
On a parallel trajectory, STM orchestrates the seamless operation of all Space objects. From compiling and scrutinizing SSA data to devising strategies for collision avoidance and their meticulous execution, STM takes the helm. Moreover, it shoulders the responsibility of ethically disposing of Space debris.
Igniting Responsible Space Endeavors
The significance of SSA and STM in navigating the Space frontier cannot be overstated. These facets necessitate profound human expertise and specialized observational instruments, including radars, telescopes, and Space-based platforms, to decode the intricate orbital information of Space entities.
This holds true both at national and international echelons. Notably, ISRO has established the "ISRO System for Safe and Sustainable Space Operations Management (IS4OM)", a comprehensive framework dedicated to safeguarding India's valuable Space assets.
ISRO's Vision: Cultivating Safe and Sustainable Space
In harmony with its mission to embrace private sector engagement in the Space domain, ISRO underscores the urgency of nurturing expertise in SSA and STM. Beyond offering career vistas, this collective wisdom shapes Space into a secure, reliable, and sustainable realm for future aspirations.
The impending workshop encapsulates this vision. With illuminating technical presentations by eminent ISRO scientists and interactive sessions helmed by top-tier scientists and engineers from diverse ISRO Centres, the event is poised to inspire.
Calling All Space Enthusiasts in India
If you're a student or research scholar pursuing courses in fields encompassing Space science, Mathematics, Physical Sciences, Engineering & Technology from esteemed Indian institutions, the workshop extends a hearty invitation. Faculty members from Indian academic institutes are also encouraged to participate. Selection hinges on academic prowess and/or performance in an online quiz.
Key Dates and Vital Information
Registration Deadline: August 30, 2023
Results Announcement: September 12, 2023
Participants are kindly requested to manage their travel and accommodation.
Eligibility Criteria
a. The opportunity to apply for this workshop is exclusively open to Indian nationals who are pursuing their courses at Colleges/Institutes/Universities in India. These educational institutions must be recognized by boards/agencies of the Government of India/State Government.
Applicable Categories:
B.E/B.Tech Students in their 4th year or above (across all branches of 4-year/5-year integrated Engineering courses)
M.E/M.Tech/M.Sc students from all branches
Full-time/Part-time PhD students/Research scholars engaged in research related to Space, Mathematics, Physical Sciences, Engineering & Technology, affiliated with institutes/universities.
Faculty members of Indian academic institutes.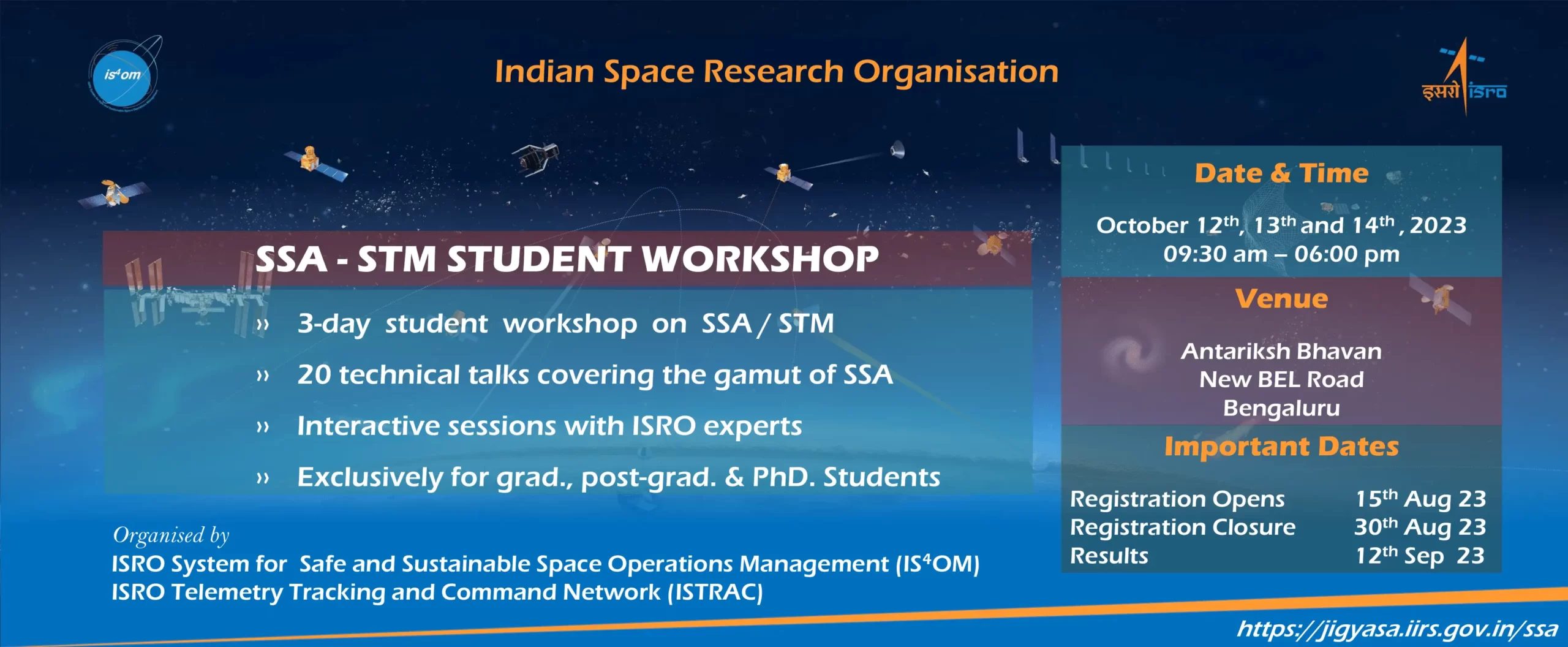 Allocation and Distribution of Seats
b. A total of 200 participants will be chosen to attend the workshop. The distribution of seats is as follows:
B.E/B.Tech Students: 80 seats
M.E/M.Tech/M.Sc Students: 60 seats
PhD Students: 40 seats
Faculty: 20 seats
c. In the event that there are insufficient applicants for any of the aforementioned categories, a common pool of seats will be created. The allocation of seats in this pool will be based on the proportion derived from the category-specific allocations mentioned above.
d. If the number of applicants falls below the allocated seats in any category, direct selection will take place, automatically enlisting those applicants for participation.
e. Waitlisted candidates, if any, will receive email notifications at a later date if they are selected to join the program.
Selection Procedure for Students
f. The selection process for the workshop is based on merit and the applicant's keen interest in attending. The selection process is divided into the following sections:
Section i) Academic Performance (60%): This portion emphasizes the applicant's academic achievements. The specific weightage criteria are detailed below:
B.E/B.Tech Students: Overall percentage of marks from the first 4 semesters or the first 2 years. CGPA will not be taken into consideration.
M.E/M.Tech/M.Sc Students: Overall percentage of marks from the bachelor's degree. CGPA will not be taken into consideration.
PhD Students: Overall percentage of marks from the master's degree. CGPA will not be taken into consideration.
Section ii) Online Quiz (40%): A link for an online quiz will be sent via email, along with a unique password for the quiz, which will be in addition to the login credentials.
The quiz will consist of 20 questions focused on general awareness about Space and Space situational awareness.
Each correct answer carries 2 marks, while each incorrect answer incurs a 1 mark deduction.
All questions must be attempted within a 10-minute timeframe.
Each participant is allowed a single attempt at the online quiz.
Selection Procedure for Faculty
i. Faculty members from Indian academic institutes will be selected solely based on their performance in the online quiz, as described in the point above.
Important Information for Participants
Participants are advised that no Travelling Allowance (TA) or Dearness Allowance (DA) will be provided by ISRO for attending the workshop. As such, participants are expected to cover their transport and accommodation expenses.
Accommodation and transport will not be arranged or provided by ISRO. Participants are responsible for making their own arrangements in this regard.
For any inquiries or clarifications, participants can reach out to the designated contact email:

[email protected]

.
Key Dates for ISRO Course
Registration Open: August 15, 2023
Registration Close: August 30, 2023, 17:30 hrs
Online Quiz: September 3-4, 2023
A link to the quiz will be sent to the registered email at least two days before the quiz date. The email will include the quiz's URL, password, and the date and time of the quiz.
Declaration of Results: September 12, 2023
Waitlisted Candidates: In the event that waitlisted candidates are selected, they will be informed via email at a later date regarding their acceptance into the program.
Unveil the Future of Space Exploration
As India charts its course in the cosmic expanse, the ISRO Workshop on Space Situational Awareness & Space Traffic Management emerges as a beacon, illuminating the path to knowledge, curiosity, and a safer Space realm. Embrace this exceptional opportunity to become part of India's Space odyssey.
ISRO is synonymous with excellence in space endeavors, and its various centers stand as pillars of knowledge and innovation. ISRO Space Applications Centre (SAC), Vikram Sarabhai Space Centre (VSSC), Liquid Propulsion Systems Centre (LPSC), and National Remote Sensing Centre (NRSC) are hubs where groundbreaking work transpires. The Indian Institute of Space Science and Technology (IIST) is where aspiring minds are nurtured. Meanwhile, the Space Education Centre (SEC), Space Applications Training Centre (SATC), Spacecraft Systems Training Centre (SSTC), and Ground Systems Training Centre (GSTC) symbolize ISRO's commitment to disseminating knowledge.
CBSE Sample Papers | CBSE Circulars |  Quizzes | Study Material
Click Here to Join our Premium Telegram for More News and Updates.
For the Latest Educational News (CBSE, ICSE, and State Board News) and live news updates, like us on Facebook or follow us on Twitter and Join our Premium Telegram Channel. Read more on Latest Exams & Results News on Shikshapress.com.