Education Loan: How to Apply for Education Loan
How to Get Education Loan: In today's dynamic world, having a solid education is the key to a promising career. Yet, many budding scholars find themselves grappling with financial constraints that hinder their aspirations.
Education Loans come as a beacon of hope for such students, allowing them to transform their academic dreams into reality. Here's your comprehensive guide on how to navigate the realm of education loans.
What is an Education Loan?
An education loan is a financial instrument designed to support students' educational expenses, encompassing tuition fees, hostel charges, and other related costs. Both private and public sector banks offer these loans, with public sector banks typically boasting more competitive education loan interest rates.
Eligibility Criteria: Who Can Secure an Education Loan?
Must be an Indian citizen.
Should be pursuing undergraduate, postgraduate, or diploma courses.
The aspirant must have secured admission in a recognized educational institution.
Tax benefits are available under section 80E of the Income Tax Act on the interest repaid.
Delving into Types of Education Loans
Undergraduate Loan: It is Suitable for students who have completed their 12th standard and are seeking graduation courses, either in India or abroad.
Career Education Loan: This Loan is Designed for those keen on pursuing career-oriented courses in government colleges or institutes.
Professional Undergraduate Student Loan: This Student Loan is Ideal for those looking to embark on postgraduate, PG diploma, or other higher education pursuits post their bachelor's degree.
Loan for Parents: This Education Loan is Tailored for guardians struggling with financing their child's education. A co-applicant is mandatory for this loan.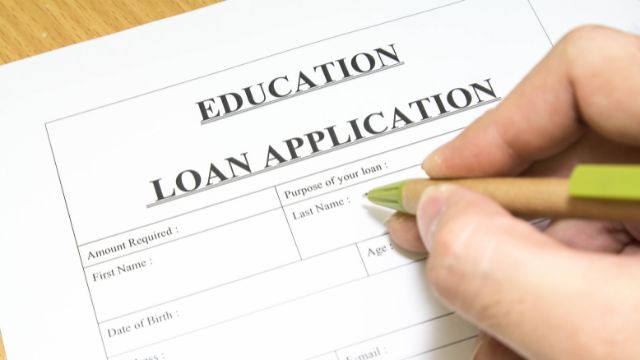 Documentation: Securing Your Study Loan
Prepare to provide Document for Educational Loan
Age proof
Passport-sized photographs
Academic transcripts from school/college/university
Identification proof
Address verification
Comprehensive course details
PAN Card and Aadhaar Card
Parents' income proof and bank passbook
Important Considerations Before Loan Approval
Loan Applicant Must be an Indian citizen, aged between 16 to 35.
Admission confirmation from a recognized institution is important.
For domestic studies, you can avail loans up to Rs 10 lakh. However, for overseas education, this study loan amount can soar up to Rs 20 lakh.
It's imperative to be aware of other fees, such as prepayment charges, processing fees, and late fees.
Education loan repayment usually commences six months post-course completion. Familiarize yourself with all related terms, including repayment period and EMI structures.
Advantages of Education Loans
Inclusivity: Education loans are accessible to everyone, including students from economically disadvantaged backgrounds. They can benefit from government-sponsored subsidy programs like the 'Central Scheme to provide Interest Subsidy' (CSIS).
Course Versatility: These study loans cater to an array of courses – be it graduation, post-graduation, diploma, or vocational training, both domestically and internationally.
Accessibility: As per RBI guidelines, education loans are prioritized in all banks, making them broadly available.
Flexible Amounts: Educational Loan values can range from Rs.2 lakh up to Rs.22 lakh for Indian studies, depending on the chosen course. For international studies, the maximum limit is Rs.20 lakh.
Comprehensive Coverage: Apart from tuition fees, these student loans cover a multitude of expenses, from library and examination fees to travel allowances for overseas studies.
Female Benefits: Women students can avail education loans at discounted interest rates.
Convenient Repayment: Students enjoy a grace period post their education and it's allowing them sufficient time to find employment and start repaying the education loan.
Conditions for Applying Education Loan
The primary factors are the course fees and the applicant's family income.
Every educational loan requires a co-applicant, be it a parent, sibling, or spouse.
Study Loans below Rs.4 lakh don't mandate a guarantor or security.
Study Loans exceeding Rs.4 lakh require a third-party guarantor, while those over Rs.7.5 lakh necessitate collateral.
Students looking to study abroad might need to explore additional funding options, such as part-time jobs or sponsorships.
Insurance is a prerequisite for overseas studies.
Conclusion: Seize Your Future
In the contemporary era, financial constraints should never be a roadblock to education. By understanding the education loan process and requirements, students can secure the necessary funds to pursue their dreams. Whether you aim to apply for an education loan online or offline, it's time to unlock your potential.
CBSE Sample Papers | CBSE Circulars |  Quizzes | Study Material
Click Here to Join our Premium Telegram for More News and Updates.
For the Latest Educational News (CBSE, ICSE, and State Board News) and live news updates, like us on Facebook or follow us on Twitter and Join our Premium Telegram Channel. Read more on Latest Exams & Results News on Shikshapress.com.