Celebrating Teachers' Day with Heartfelt Greetings and Messages
Teachers are the guiding lights that illuminate the path of knowledge for students. Teachers' Day, celebrated annually, pays tribute to these remarkable individuals who shape our minds and inspire us to reach for the stars.
In this blog post, we delve into the significance of Teachers' Day, explore different ways to convey gratitude, and provide you with a collection of heartfelt greetings and messages to express your appreciation.
Understanding Teachers' Day
Teachers' Day is a special occasion dedicated to honoring educators and their invaluable contributions. It is celebrated worldwide on various dates, often coinciding with the birth anniversary of eminent teachers or educational figures.
The day holds immense importance as it highlights the selfless efforts of teachers in nurturing future generations.
Types of Teachers Day Greetings
Expressing gratitude can take various forms:
Written Messages: A heartfelt note expressing your appreciation and acknowledging the impact your teacher has had on your life can be incredibly meaningful.
Verbal Greetings: A simple Happy Teachers' Day in person, over the phone, or via a video call can make your teacher's day brighter.
Gifts: Thoughtful gifts, whether practical or symbolic, can convey your gratitude in a tangible way.
Other Ways to Show Appreciation: Acts of kindness, such as helping out in the classroom or assisting with tasks, can demonstrate your respect and admiration.
Happy Teachers Day Messages
here are 10 heartfelt messages that you can use to wish your teachers a Happy Teachers' Day:
"Your wisdom, patience, and kindness have influenced me more than you can ever know. Happy Teachers' Day!"
"Happy Teachers' Day to someone who has given me the tools to dream big and the courage to achieve them."
"You are the spark, the inspiration, the guide, and the candle to my life. Happy Teachers' Day!"
"You didn't just educate me; you taught me the importance of education itself. Happy Teachers' Day!"
"Thank you for encouraging my questions and for giving me the freedom to find the answers myself. Happy Teachers' Day!"
"You've seen what I could be and helped me see it too; you've made a bigger difference than you can know. Happy Teachers' Day!"
"The lessons you've taught go far beyond the walls of the classroom. Thank you for nurturing my dreams. Happy Teachers' Day!"
"You made the classroom a fun place where learning became joy. Happy Teachers' Day!"
"For all the guidance and love you've showered upon me, a simple 'Thank You' doesn't seem enough. Nevertheless, Happy Teachers' Day!"
"Happy Teachers' Day to someone who is not just a great teacher but also an incredible human being."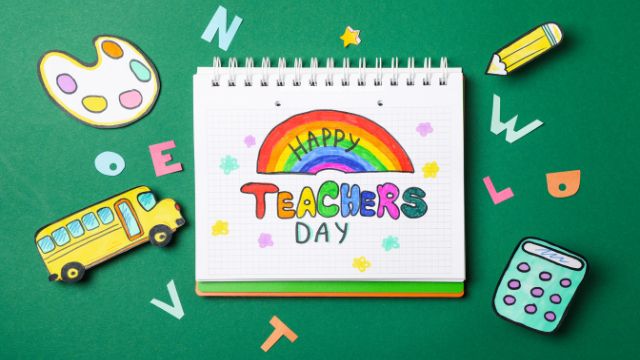 Teachers Day Quotes
Here are 10 quotes that can be used to wish teachers on Teachers' Day:
"A teacher takes a hand, opens a mind, and touches a heart." – Unknown
"Good teachers know how to bring out the best in students." – Charles Kuralt
"The best teachers teach from the heart, not from the book." – Unknown
"The art of teaching is the art of assisting discovery." – Mark Van Doren
"Teaching is the highest form of understanding." – Aristotle
"Teachers affect eternity; no one can tell where their influence stops." – Henry Brooks Adams
"It takes a big heart to shape little minds." – Unknown
"The influence of a good teacher can never be erased." – Unknown
"Education is not the filling of a pail, but the lighting of a fire." – William Butler Yeats
"Your role as a teacher is to inspire, and you have done that and so much more." – Unknown
Teachers Day Wishes
here are 10 heartfelt wishes you can use to express your gratitude on Teachers' Day:
"Happy Teachers' Day to the person who has been my mentor, guide, and friend. Thank you for making learning a joyous journey!"
"Wishing you a Happy Teachers' Day! Your wisdom and dedication have always been my inspiration."
"To the one who knows how to bring out the best in me, Happy Teachers' Day! Your influence lasts a lifetime."
"Happy Teachers' Day! Your teachings are the treasures that I will cherish forever."
"You didn't just impart facts; you made learning a holistic experience. Happy Teachers' Day to the most amazing teacher!"
"On this special day, I want to thank you for all the skills and lessons you've imparted in me. Wishing you a very Happy Teachers' Day!"
"You make the complex feel simple, and the painful feel like a lesson worth learning. Happy Teachers' Day!"
"Happy Teachers' Day to someone who has not just taught me academics, but the important life lessons I could never find in a book."
"You turn the classroom into a wonderland of learning. May this Teachers' Day bring you the recognition you deserve!"
"Your lessons make tricky things seem easy. Thank you for being a teacher who has always believed in me. Happy Teachers' Day!"
Teachers Day Poems
here are a few original poems you can use to celebrate Teachers' Day:
The Light of Wisdom
In the classroom's silent glow,
Your wisdom starts to flow,
Like a river, endless, free—
A guide for souls like me.
Happy Teachers' Day!
The Gardener of Minds
You plant the seeds of knowledge,
In minds both young and old.
Your patience, love, and wisdom
Are worth much more than gold.
Happy Teachers' Day!
A Teacher's Legacy
You've taught us more than subjects,
You've taught us how to be,
A beacon in the darkness—
A legacy, you'll see.
Happy Teachers' Day!
The Canvas of My Life
On the canvas of my life,
You've added colors bright,
With every stroke of wisdom,
You've turned my wrongs to right.
Happy Teachers' Day!
A Sculptor of Character
You chipped away my fears,
Smoothed out my many flaws,
And now, I am a sculpture
That's greeted with applause.
Happy Teachers' Day!
You can recite these poems, include them in a Teachers' Day card, or even send them digitally to show your appreciation to the educators who've made a difference in your life.
Teachers Day Cards Ideas for Wishes
Creating a Teachers' Day card that stands out can be a rewarding way to show your appreciation. Here are some ideas for "Best Happy Teachers' Day Cards" that you can consider:
Traditional Handmade Card
Inspirational Quote Cover: Use an inspiring quote related to education or teaching for the front cover.
Personal Message Inside: Write a heartfelt note thanking the teacher for their impact on your life.
Handmade Drawing: If you're artistic, include a drawing that relates to a subject the teacher teaches or an inside joke from the class.
Digital Card for Teachers
Interactive Elements: Use tools like Canva or Adobe Spark to create digital cards with interactive elements like clickable buttons or embedded videos.
E-Signatures from the Class: Collect digital signatures or short messages from all the students in the class.
Animated Effects: Use subtle animations to make the card more engaging.
Pop-Up Card for Teachers
3D Classroom: Create a 3D pop-up that resembles a classroom when the card opens.
Inscription: Add an inscription that "pops up" along with the 3D elements.
Photo Corners: Add corners to insert a memorable photo of the class or a special project.
Audio Card
Record a Message: Use a store-bought card that allows you to record a short message, or DIY it with some simple electronic components.
Background Music: Include a soft instrumental background track that plays along with your message.
Closing Note: End with a sign-off and a simple "Happy Teachers' Day!"
Multi-Page Card
Timeline of Lessons: Use each page to thank the teacher for a specific lesson or quality they have instilled in you.
Class Photos: Include photos from different events or projects through the school year.
Last Page: A final thank-you note from you or a group of students, along with your signatures.
Remember, what makes these cards truly the "best" is not just their visual appeal, but also the sincerity and thoughtfulness behind the messages they carry.
Teachers Day Gifts Ideas for Your Favourite Teachers
Selecting the perfect gift for Teachers' Day can be a delightful way to express your gratitude and appreciation for your educator's hard work and dedication. Here are some gift ideas that could make your teacher's day special:
Personalized Gifts
Customized Mug: A coffee mug featuring a special message or even a picture of the class.
Personalized Stationery: Notepads, pens, and planners with the teacher's name engraved on them.
Name Plate: A beautifully crafted name plate for their desk, perhaps in wood or glass, with their name and a special message.
Educational Supplies
Books: A bestseller in the teacher's subject area, or perhaps something from their favorite genre.
High-Quality Markers or Pens: Teachers always need these, and a good set can be a delight to use.
Classroom Decor: Inspirational posters or practical items like wall organizers.
Self-Care Products
Spa Day Certificate: Teachers work hard; they could use a day of pampering!
Gift Baskets: Curate a basket filled with their favorite snacks, teas, or self-care products.
Scented Candles: A high-quality scented candle can help them unwind after a long day.
Experience Gifts
Workshop or Seminar Tickets: Enroll them in a short course or seminar that aligns with their interests.
Gift Cards: For a bookstore, their favorite restaurant, or a popular retail store.
Movie Tickets: A simple but thoughtful gift allowing them to enjoy some leisure time.
Handmade Gifts
Handwritten Letter: Sometimes, words can be the most meaningful gift. Write a heartfelt note expressing your gratitude.
Artwork: If you're artistically inclined, perhaps a piece of art you created yourself.
Photo Album: Pictures capturing special moments throughout the school year can be a sentimental gift.
Tech Gadgets
Wireless Charger: For the tech-savvy teacher to easily charge their devices.
Bluetooth Speaker: For classroom activities or personal use.
E-Book Reader: For the teacher who loves to read but is always on the go.
Plants
Desk Plants: A small potted plant like a succulent or bonsai can brighten up their desk.
Herb Garden Kit: If they enjoy cooking, they may appreciate a small herb garden for their kitchen.
Remember, the most cherished gifts are often those that come from the heart. Even a simple card with a heartfelt message can make a meaningful Teachers' Day gift.
10 Best Happy Teachers Day Tweets
here are 10 tweets you could use to wish your teachers a Happy Teachers' Day on social media platforms like Twitter:
"Happy #TeachersDay to all the incredible educators out there! Your dedication shapes the future one student at a time."
"Wishing a joyful #TeachersDay to the mentors who made us believe we could achieve anything! You are the real heroes."
"To my favorite teacher, your guidance means the world to me. Thank you for inspiring hope and igniting my imagination. Happy #TeachersDay!"
"Your lessons are not just confined to the classroom. They shape our lives. Grateful for you every day! 🙏 #TeachersDay"
"#TeachersDay is the perfect occasion to say 'Thank You' to those special mentors who've made a big difference. Cheers to you!"
"From ABCs to life's complexities, teachers are the best guides we could ask for. Happy #TeachersDay to all educators!"
"Not all heroes wear capes; some carry a chalk and a board. Celebrating the real heroes this #TeachersDay!"
"What I am today is a reflection of your efforts and encouragement. Thank you for bringing out the best in me. Happy #TeachersDay!"
"Happy #TeachersDay! Here's to the ones who ignite a spark that never goes out. Your impact is everlasting."
"It takes a big heart to shape little minds. Happy #TeachersDay to all the wonderful teachers who give so much to create our tomorrow."
Feel free to use or modify these tweets to express your gratitude and admiration for your teachers!
Your dedication to teaching is truly inspiring. Happy Teachers' Day! Thank you for making learning an incredible journey.
To the best teacher, your wisdom and patience have shaped my future. Wishing you a Happy Teachers' Day!
Your belief in me has been a driving force. Happy Teachers' Day to the mentor who has changed my life!
With gratitude, I remember the lessons you've imparted. Your influence continues to guide me. Happy Teachers' Day!
Learning was never this much fun before you became my teacher. Your passion is infectious. Happy Teachers' Day!
Conclusion
On Teachers' Day, social media platforms are flooded with heartfelt Teachers' Day wishes and creative Teachers' Day greetings. While many people choose to say a simple "Thank you teachers," others opt for inspirational Teachers' Day messages that capture the essence of a teacher's role in a student's life.
If you're looking for unique ways to express your gratitude, funny Teachers' Day messages or Teachers' Day quotes could be your go-to. For a more poetic touch, Teachers' Day poems offer a sentimental way to convey your feelings.
With these greetings and messages, we hope you can convey your heartfelt appreciation to the teachers who have shaped your journey of knowledge and growth. Happy Teachers' Day!
Read These Too:
CBSE Sample Papers | CBSE Circulars |  Quizzes | Study Material
Click Here to Join our Premium Telegram for More News and Updates.
For the Latest Educational News (CBSE, ICSE, and State Board News) and live news updates, like us on Facebook or follow us on Twitter and Join our Premium Telegram Channel. Read more on Latest Exams & Results News on Shikshapress.com.