National Disaster Management Authority Launches Disaster IQ Test: Win Up to Rs. 5000
Test Your Preparedness Skills with NDMA's Unique Quiz Initiative – Cash Prizes to Motivate Participation: 1st prize: Rs.5000/-, 2nd prize: Rs.3000/-, 3rd prize: Rs.2000/-
Free Govt. Online Quiz with Prizes: On the occasion of its foundation day, the National Disaster Management Authority (NDMA) has rolled out a special quiz designed to elevate public awareness about disaster management. This new engagement Prepare to Prevail Disaster IQ Test, seeks to motivate individuals and communities into taking proactive disaster management steps.
The unique Prevail Disaster IQ Quiz offers participants a chance to gauge their comprehension of diverse disaster types, delve into effective response strategies, and truly understand the significance of taking early precautions.
NDMA envisions this exercise to engrain the importance of preparedness and spark a change towards a more resilient society.
Key Details of the Prevail Disaster IQ Test Quiz:
Eligibility: Open for all Indian citizens.
Prevail Disaster IQ Test Quiz Duration: Participants have to answer 20 questions within a strict time frame of 10 minutes.
Language: Available in both English and Hindi.
Entry Mechanism: The quiz activates once 'Play Quiz' is clicked. Remember, entries once submitted, stand final. Alongside the quiz answers, participants need to submit personal details including name, email, phone number, etc.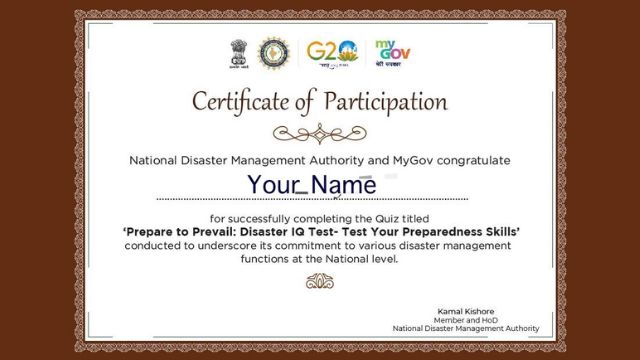 Important Terms of Prevail Disaster IQ Test 
MyGov and NDMA have the right to use the participants' details to ensure the smooth operation of the contest.
One participant, one entry. Multiple entries will be disqualified.
Organizers possess the right to modify the contest terms or even call off the competition under exceptional circumstances.
Beware! False or incorrect information can render your entry void.
Lost, late, or incomplete entries due to technical glitches or other issues will not be the responsibility of the organizers.
Organizers' decisions stand final. Disputes, if any, are subject to the jurisdiction of Indian laws.
Any changes or updates will be promptly posted on the MyGov platform.
Crucially, participants must ensure their MyGov profile is updated and accurate for seamless communication. Incomplete profiles risk disqualification.
The contest is set to conclude on 21 Sep 2023. So, don't miss this chance to test your disaster preparedness skills and stand a chance to win exciting prizes!
CBSE Sample Papers | CBSE Circulars |  Quizzes | Study Material
Click Here to Join our Premium Telegram for More News and Updates.
Download ShikshaPress App For Free Educational Updates
For the Latest Educational News (CBSE, ICSE, and State Board News) and live news updates, like us on Facebook or follow us on Twitter and Join our Premium Telegram Channel. Read more on Latest Exams & Results News on Shikshapress.com.