DG Rakesh Pal: The New Chief of the Indian Coast Guard
DG Rakesh Pal has been officially appointed as the 25th Director General of the Indian Coast Guard (ICG), marking a significant step in his career within the organization. A seasoned veteran with a rich career in the ICG since January 1989, Pal is also a distinguished alumnus of the Indian Naval Academy.
Renowned Specialist and First Gunner of ICG
With extensive professional training, Pal specializes in Gunnery & Weapons Systems. His training took place at the Indian Naval School Dronacharya, in Kochi. Additionally, he has completed an Electro-Optics Fire Control Solution course from the United Kingdom. This advanced specialization earned him the title of being the First Gunner of the ICG.
An Illustrious Career Spanning Over Three Decades
Over his 34-year-long career, DG Rakesh Pal has held several key appointments. Among his notable roles are Commander Coast Guard Region (North West), Gandhinagar, Deputy Director General (Policy & Plans), and Additional Director General Coast Guard at Coast Guard Headquarters in New Delhi.
He also served in various distinguished staff assignments, including Director (Infra & Works) and Principal Director (Administration) at the Coast Guard Headquarters.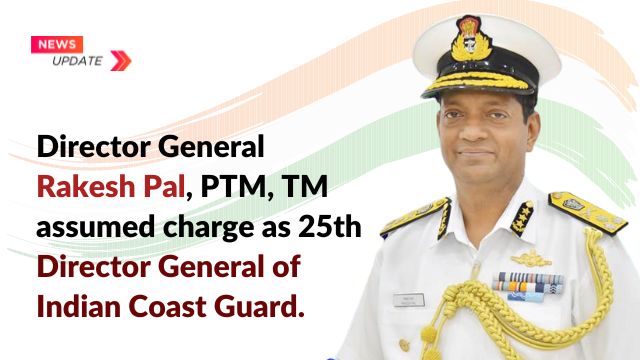 Commanding Officer With Vast Sea Experience
Beyond his contributions in the administrative sphere, Pal has shown his leadership on the waters as well. He has commanded all classes of ICG ships, including the ICGS Samarth, ICGS Vijit, ICGS Sucheta Kriplani, ICGS Ahalyabai, and ICGS C-03. Further extending his command experience, Pal also led two Coast Guard bases in the forward area in Gujarat – Okha & Vadinar.
His Journey to Director General
DG Rakesh Pal was promoted to the rank of Additional Director General in February 2022 and stationed at the Coast Guard Headquarters in New Delhi.
He was given the additional charge of Director General Coast Guard in February 2023. Under his leadership, the ICG accomplished numerous significant operations and exercises.
These included the seizure of narcotics and gold worth crores of rupees, rescue operations during severe cyclonic storms, joint exercises with foreign Coast Guards, anti-poaching operations, providing humanitarian assistance during natural calamities, and conducting Coastal Security exercises.
Honours and Recognition
In recognition of his exceptional service, DG Rakesh Pal was awarded the Tatrakshak Medal in 2013. He was also conferred the prestigious President Tatrakshak Medal in 2018, further highlighting his commitment and dedication to the Indian Coast Guard.
CBSE Sample Papers | CBSE Circulars |  Quizzes | Study Material
Click Here to Join our Premium Telegram for More News and Updates.
For the Latest Educational News (CBSE, ICSE, and State Board News) and live news updates, like us on Facebook or follow us on Twitter and Join our Premium Telegram Channel. Read more on Latest Exams & Results News on Shikshapress.com.