CBSE Latest Circular and News: For the academic institutions interested in filing for Fresh Affiliation, the deadline for online registration is now postponed from June 30 to July 31, 2023, with a similar extension being granted for those filing under the categories of Upgradation of Affiliation and Extension of Affiliation.
This change was announced by the Central Board of Secondary Education (CBSE) Yesterday, as they decided to extend the application deadlines for schools applying for affiliation via SARAS (School Affiliation Re-engineered Automation System) for the academic year 2024-25.
This vital information can be found in the official notice released on the board's official website at cbse.gov.in.
For those schools aiming to file under Fresh Affiliation, the online registration deadline has now been pushed back from June 30 to July 31, 2023. Similarly, those filing under the Upgradation of Affiliation and Extension of Affiliation will find their deadlines extended from June 30 to July 31, 2023.
Good news for all those who are applying for an extension of affiliation this year. The date has been extended till 31 July 2023. For fresh and switch over categories for fresh affiliation and switch-over categories, the date remains the same (30th June 2023)
CBSE Extends Affiliation Application Deadlines for the 2024-25 Academic Session via SARAS 4.0 Portal – Official Circular
This decision, detailed in Circular No. 17/2023 dated April 28, 2023, was made in consideration of extending the timeline for submission of online applications for the session 2024 – 25 via the SARAS 4.0 portal. This extension is applicable for all existing CBSE-affiliated schools, with the guarantee of no further extensions.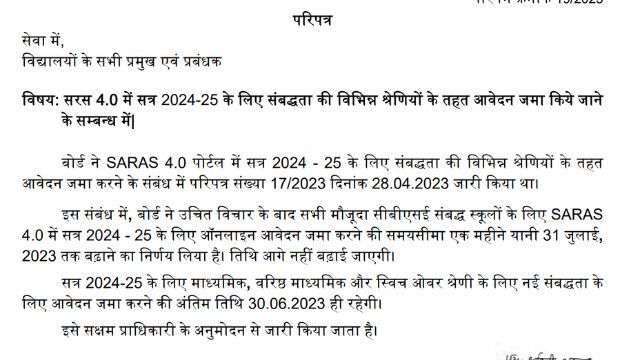 However, the deadline for submission of applications for fresh affiliation for Secondary, Senior Secondary, and Switch Over Category for the session 2024 – 25 remains set at June 30, 2023.
CBSE Sample Papers | CBSE Circulars |  Quizzes | Study Material
Join our Premium Telegram and Whatsapp Channel for More News and Updates.
For the Latest Educational News (CBSE, ICSE, and State Board News) and live news updates, like us on Facebook or follow us on Twitter and Join our Premium Telegram Channel. Read more on Latest Exams & Results News on Shikshapress.com.