Air Marshal AP Singh, PVSM AVSM, The New Vice Chief of the Air Staff (IAF)
Press Release: Air Marshal AP Singh, PVSM AVSM, took over as the Vice Chief of the Air Staff (VCAS) on 01 Feb 2023. On taking over as VCAS, he laid a wreath at the National War Memorial in honor of the Armed Forces personnel who have made the supreme sacrifice for the country. He was then given a ceremonial Guard of Honor at the Air Headquarters (Vayu Bhavan).
Air Marshal AP Singh was commissioned as a fighter pilot in the Indian Air Force on 21 December, 1984. Air Marshal Amar Preet Singh is serving as the 47th Vice Chief of the Air Staff.
An alumnus of the National Defense Academy, Defense Services Staff College, and National Defense College, the Air Marshal was commissioned into the fighter stream of the Indian Air Force on 21 December 1984. The Air Officer is a Qualified Flying Instructor and an Experimental Test Pilot with over 5000 hours of flying experience on various types of fixed and rotary-wing aircraft.
During his career, Air Marshal AP Singh commanded an operational fighter squadron and a frontline air base. As a test pilot, he led the MiG-29 upgrade project management team in Moscow, Russia. He was also the Project Director (Flight Test) at the National Flight Test Center overseeing the flight testing of the Light Combat Aircraft (Tejas).
Air Marshal AP Singh has held the important positions of Air Defense Commander in the South Western Air Command and Senior Air Staff Officer in the Eastern Air Command. Prior to his present appointment, he was the Air Officer Commanding-in-Chief, of Central Air Command.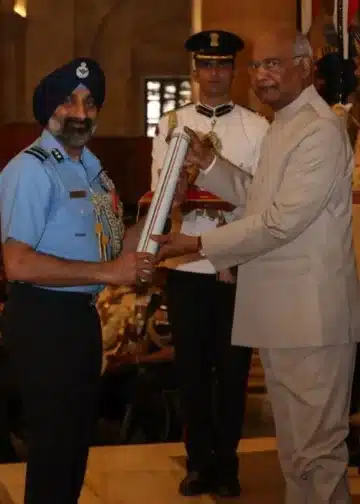 The Air Marshal AP Singh is also a recipient of the Param Vishisht Seva Medal and Ati Vishisht Seva Medal. He succeeds Air Marshal Sandeep Singh, who superannuates on 31 Jan 2023 after over 39 years of illustrious service.
For the Latest Educational News (CBSE, ICSE, and State Board News) and live news updates, like us on Facebook or follow us on Twitter and Join our Premium Telegram Channel. Read more on Latest Exams & Results News on Shikshapress.com.